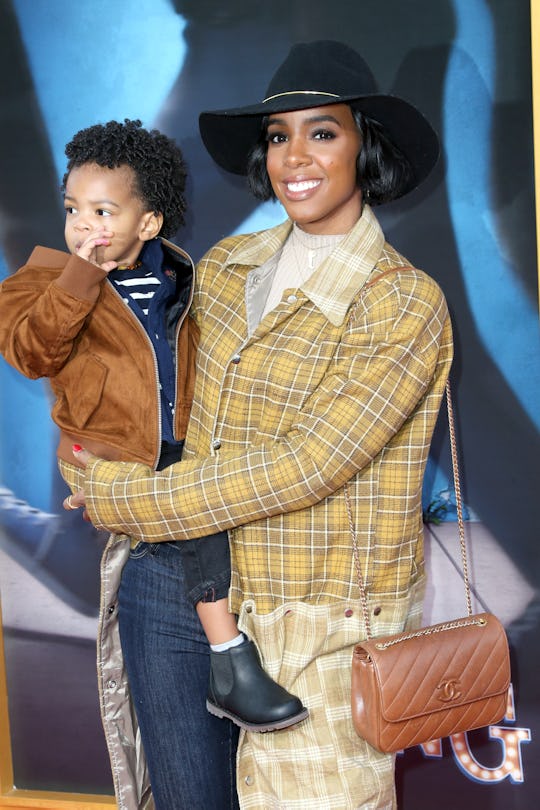 Frederick M. Brown/Getty Images Entertainment/Getty Images
Kelly Rowland Talks About Expanding Her Family & Her Son's Adorable Antics
She's already the proud mom of an adorable toddler, but in a recent interview with E! News and other entertainment outlets, Destiny's Child alum Kelly Rowland talked about expanding her family, saying that "one more [child] is just fine!" The 35-year-old Empire actress gave birth to her first child — Titan Jewell, her 2-year-old son — on Nov. 4, 2014. And it sounds like Rowland and her husband Tim Witherspoon might be ready to give their son a sibling in the near future, even though they — like most parents — already have their hands full with their son and his adorable antics.
"I feel like [Titan is] a handful tearing up my house and drawing on my walls and cussing me out, oh my goodness," Rowland joked during a talk with E! News on Friday at the sixth annual March of Dimes Celebration of Babies charity luncheon in Beverly Hills.
She continued, "But he's awesome and I'm so blessed to have him and his dad is an excellent dad. We have a nice little unit as three... we'll see what happens."
And with just one look at this most recent photo that Rowland posted on her Instagram account of little Titan playing with toy cars, everyone can only imagine all the hijinks this adorable toddler gets himself into every day.
The singer also gushed about her son showing off his own musical talent, saying that he has a real knack for imitating her or anyone who is singing.
"He is a boy's boy but if he hears myself or anybody singing he's going to repeat it," she said in the same interview. "It's the weirdest thing, melody for melody."
Rowland also revealed in the interview with E! News that Titan's relationship with 4-year-old Blue Ivy — the daughter of her Destiny's Child bandmate and friend Beyoncé and husband Jay Z — is as close as family, noting that the kids "act like cousins."
"Yes, they are extremely close," she explained. "It's the sweetest thing. It's the greatest thing about friendship when you're able to grow up together and your children are able to grow up together and it's just years. Just years upon years of beautiful friendship and sisterhood."
With talented power moms like Rowland and Beyoncé, who knows, the these two tots — who are both already showing off their musical talents — may be the next duet to captivate the world.