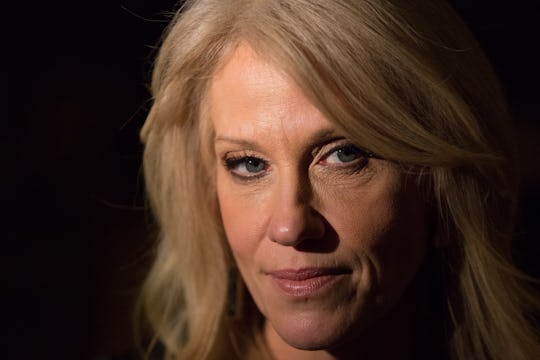 Kevin Hagen/Getty Images News/Getty Images
Kellyanne Conway Bashes Mitt Romney & Hints That He's Not Qualified For Secretary Of State
Former Trump campaign point-woman Kellyanne Conway made some interesting comments about former Massachusetts Gov. Mitt Romney on Sunday, ones that were strangely out of step with the behind-the-scenes workings of the Trump transition team itself. In a comment to CNN this week, Conway bashed Romney and hinted that he wasn't qualified to be secretary of state, despite President-elect Donald Trump previously speaking highly of Romney, following the Nov. 8 election victory. While it's not surprising for Conway to openly speak her mind on television, her comments concerning Romney seem to directly contradict the efforts of Trump's transition team — which either signals a rift in the Trump camp, or a shift in the incoming administration's game plan.
Conway's CNN appearance on Sunday was not the first time the Republican political advisor has voiced her opposition to Romney joining the Trump administration. After Politico published an article concerning the dislike of Romney amongst Trump's supporters on Thursday, Conway linked back to the piece on her Twitter account. She wrote that she had been "receiving deluge of social media & private comms re: Romney. Some Trump loyalists warn against Romney as sec of state." Romper has reached out to both Gov. Romney and President-elect Trump for comment.
Romney openly opposed Trump as the Republican nominee throughout his campaign, earning himself a spot as one of Trump's fiercest critics. It may seem odd that President-elect Trump would suddenly warm up to a man who opposed him so much that he'd be willing to tap him as secretary of state. Romney's consideration, though, looks like it might be part of a bigger adjustment taking place. During Trump's transition, the president-elect has backed off a few different promises he made during his campaign. He's no longer looking to pursue a Clinton indictment and he admitted that mankind might have something to do with climate change. These suggest a shift in might be occurring in Trump's camp as he prepares to take office.
It appears Kellyanne Conway is not on board with decisions being made by Trump's transition team. She called the opposition to Romney "breathtaking in scope and identity" and said she felt "compelled to come forward on behalf of the people who were weighing in." Conway didn't just address the backlash amongst Trump's supporters. She went on to take personal shots against Romney, saying the former governor "ran for the same office four years ago and lost spectacularly." She questioned his qualifications, as well, stating she doesn't believe Romney has done enough on behalf of the United States in the last four years to warrant a Cabinet appointment. This is an interesting point, considering the president-elect himself has literally no government experience at all.
Republican strategist and political commentator Ana Navarro called Conway out on Twitter, writing that it's "astounding to hear K. Conway, who has the ability to tell Trump privately, trash possibility of Romney as sec of state publicly on CNN." Conway continued to the fan the flame of Romney backlash by replying that she did "tell him privately. And I'll respect his decision. Point is the volume and intensity of grassroots resistance to Romney is breathtaking."
Reince Priebus, Trump's chief of staff, attempted to downplay the internal friction surrounding Romney's consideration for secretary of state on Fox News Sunday. "There's a lot of opinions about this," he revealed, even admitting that it is "a sort of team of rivals concept if you were to go toward the Gov. Romney concept." Priebus said that the fact that Romney is even in the running shows that Trump is dedicated to uniting the country following the divisive election.
Trump is also considering former New York Mayor Rudy Giuliani for the important Cabinet position, as well as former Gen. John Kelly. Conway has yet to publicly criticize them on television, so it's probably safe to assume she'd rather see one of them by Trump's side come January.