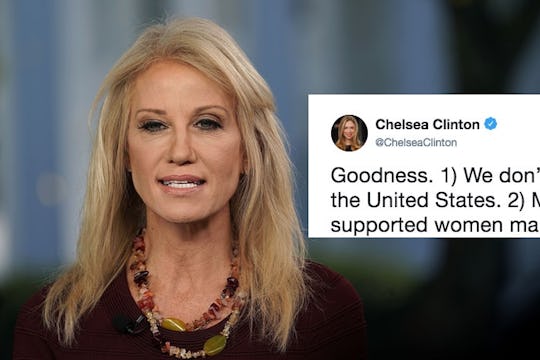 Alex Wong/Getty Images News/Getty Images
Chelsea Clinton Perfectly Responded To Kellyanne Conway Calling Hillary The "Queen Of Abortion"
With the incredibly high-stakes midterm elections only one day away, politicians on both sides of the divide are launching their final efforts to sway voters in a battle that has pretty much become an unofficial referendum on Donald Trump's presidency. Naturally, Democrats and Republicans have been employing all kinds of strategies to influence the public, and on Sunday, White House counselor Kellyanne Conway seemed to introduce hers. During an appearance on Fox and Friends, Kellyanne Conway called Hillary Clinton "the queen of abortion," while attempting to argue that Democrats just weren't doing a great job at winning over female voters, according to The Hill.
In the Fox and Friends clip, Conway claimed that female voters preferred to vote Republican because "they know the difference between what offends them and what affects them," and that what they really cared about were the GOP's priorities: the economy, "law and order, and respecting our military and veterans for the first time in years." She then claimed that, because of that, the Democrats were specifically trying to put reproductive rights on the back burner.
During the Fox and Friends interview, as The Hill reported, Conway said, "I've noticed also that the Democrats aren't talking much about abortion this time. And that's because they tried that for so long, they tried it with the queen of abortion in 2016, and it backfired for them because so many women said, 'Excuse me, you've got to talk to me on all the issues.'"
Conway, of course, is known for saying all kinds of outrageous things, but even still, hearing her call Clinton "the queen of abortion" is pretty jarring. And yet, it also seems to be quite ironic: at the same time that Conway is trying to argue that the Democrats aren't discussing "real issues," she takes a stab at Clinton, as if she just wanted to remind female Fox News viewers that they disliked her so much that they were once willing to cast a vote for Trump, despite his offensive — and often anti-women — rhetoric.
For those who are already solidly pro-Trump, Conway's new nickname for Clinton will probably go over well, and for those who are solidly against, it'll represent yet another of Conway's signature eye-roll-inducing remarks. But following the segment, there was one person in particular who wasn't about to let it slide unchecked: Clinton's daughter, Chelsea.
In a tweet Sunday night, Chelsea Clinton retweeted The Hill's article about the Fox and Friends segment, and proceeded to succinctly correct the outspoken Trump advisor.
Chelsea wrote that her mother "has always supported women making the reproductive health choices they decide are best for themselves [and] their families," and added, "that's what pro-choice means."
As usual, Chelsea kept her tweet respectful, but beyond simply hitting back at Conway's swipe at her mother, Chelsea also emphasized that it's a myth that supporting reproductive rights is the same as being being "pro-abortion." And, actually, it seems most Americans seem to support that distinction: a July 2018 Gallup poll found that only 28 percent of Americans want Roe v. Wade to be overturned.
One thing Conway does at least appear to be right about though? Trump does still have female supporters, and according to The New York Times, they seem to particularly value his hardline talk about border security and immigration. It's no surprise, then, that the president has been given so much attention to the migrant caravan as of late: one female Trump supporter told the outlet, "He wants to protect this country, and he wants to keep it safe, and he wants to keep it free of invaders and the caravan and everything else that's going on."
Those hoping to see a blue wave on Tuesday still have reason to be optimistic, though. Despite Conway's assertion that the Republicans better understand the concerns of women, a recent NBC/Wall Street Journal poll found that, actually, only 38 percent of women approved of Trump's presidency, according to The New York Times.
Of course, it'll be impossible to truly know just where women in America stand until after the votes have been counted, and it's why it's so important that everyone get out to vote. But even if Conway were right about the GOP's female support, there's no question that her swipe at Hillary was unnecessary.