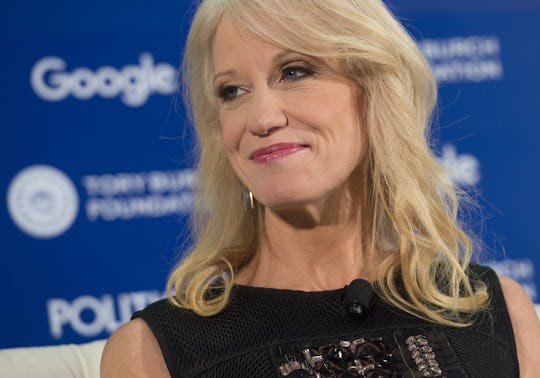 SAUL LOEB/AFP/Getty Images
Kellyanne Conway Hints That Women Shouldn't Take White House Jobs If They Have Kids
Kellyanne Conway has to be one of the hardest working women in politics. As President-elect Donald Trump's former campaign manager, transition team member, and loyal supporter, Conway has spent a lot of time away from home pushing for both a Trump presidential win, and afterward, a successful White House transition. But while Conway was working hard for Trump, she was also busy being a mother. Conway, of all women, should understand just how important it is for working mothers to be respected in their choices — however, speaking at an event this week, Conway hinted that women shouldn't take White House jobs if they have kids — a strange assertion given her own shining resume.
Plenty of women with kids have taken roles working for the White House. In fact, two out of three of the women that Trump has picked for his Cabinet, soon to be working in the White House, are mothers. South Carolina Gov. Nikki Haley, who is Trump's chosen United Nations ambassador, has two kids of her own — a teenage daughter and son. Betsy Devos too, Trump's chosen secretary of education, is a mother to four children.
Despite this, during Politico's Women Rule event, Conway, a mother to four children under the age of 12, had this to say about being a mother and possibly taking a high-powered job:
I do politely mention to them [that] the question isn't "would you take the job" — the male across from me who's going to take the big job in the White House. The question is, "Would you want your wife to? Would you want the mother of your children to?" You see their entire visage change. It's like, oh no, they wouldn't want their wife to take that job.
Representatives for Trump's transition team did not respond to Romper's request for comment.
Working in the White House is exhausting, I'm absolutely sure of it. But a woman having a job at the White House doesn't necessarily take away from a her ability to be a good mother. In fact, I imagine being a mother and working in the White House, surrounded by opportunities to effect real change, inspires women to take those jobs for their children. Of course, Conway could be speaking about her own decision to take a position in the White House, as she's hinted at before (On Nov. 10, days after Trump won the election, Conway tweeted that she had reportedly been offered a White House position, but did not specify what it was). But the real problem with Conway's comments is that it suggests that women — who play an important role in both their homes and their offices — can't have or fit both roles in their lives successfully, or that a role like that might be harmful to their families.
Trump's Cabinet has already been criticized as being "anti-women" according to The New York Times, due to certain selected Cabinet member's not-so-friendly stances on women's issues. Conway's words do not help Trump's case. Implying that women cannot adequately handle the responsibility that comes with being a working mother in the hectic world of politics is irresponsible — Conway herself is, after all, proof that they can.