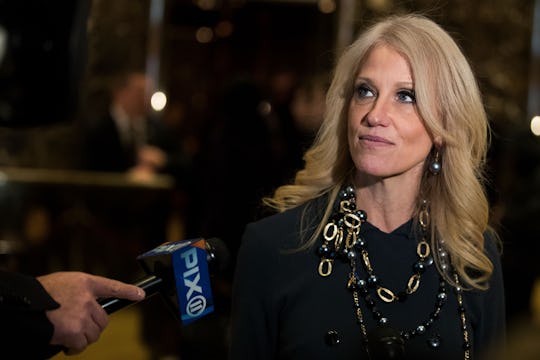 Drew Angerer/Getty Images News/Getty Images
Kellyanne Conway Just Got A White House Job
In an early morning press release on Thursday, President-elect Donald Trump announced another appointment to his incoming administration. Former Trump campaign manager and point-woman Kellyanne Conway has been named as Trump's presidential counselor. What exactly does the position of counselor to the president entail?
In the press release sent from Trump's office, the president-elect said of the choice:
Kellyanne Conway has been a trusted advisor and strategist who played a crucial role in my victory. She is a tireless and tenacious advocate of my agenda and has amazing insights on how to effectively communicate our message. I am pleased that she will be part of my senior team in the West Wing.
Conway has been a major player in Trump's circle since his campaign began, so it's not surprising that she'll have a role in his administration. The president has a wide array of advisors in their cabinet, many of which are specific to certain areas of expertise. As a member of the Executive Office of the President, the Counselor has an important role, but one that might be a little broader than say, an energy or foreign policy advisor.
The role of Counselor to the President was created with cabinet-rank during the Nixon administration, according to The New York Times. Nixon himself actually had several different people in the role throughout his presidency, of varying backgrounds. Presidents since Nixon have often had a few counselors, though some, like Jimmy Carter, didn't have any. Generally speaking, though, the role of Counselor is ideally filled by someone the president trusts.
The Counselor and other members of the president's leadership work together to help things run smoothly in terms of communication, both within the White House and to those outside of it. Karen Hughes, a Counselor to President George W. Bush, described her day to NBC as being "surrounded by papers and books and mementos" and referred to it as "hectic." Hughes also explained that she'd worked closely with Bush throughout his campaign, and when she was asked to fill the role of Counselor in the White House, Bush told her he wanted her "unvarnished opinions."
Conway, who spent a significant portion of her pre-campaign career as a political commentator for networks like Fox News, is no stranger to sharing her strong opinions, which is probably something that made her a natural choice for the role in Trump's administration. She'll have the ability to weigh in on many decisions that Trump makes during his time in the White House, but most of those conversations will happen behind closed doors. This development isn't too unexpected, since Trump originally wanted to offer Conway a spokeswoman role for his administration — but she turned it down.