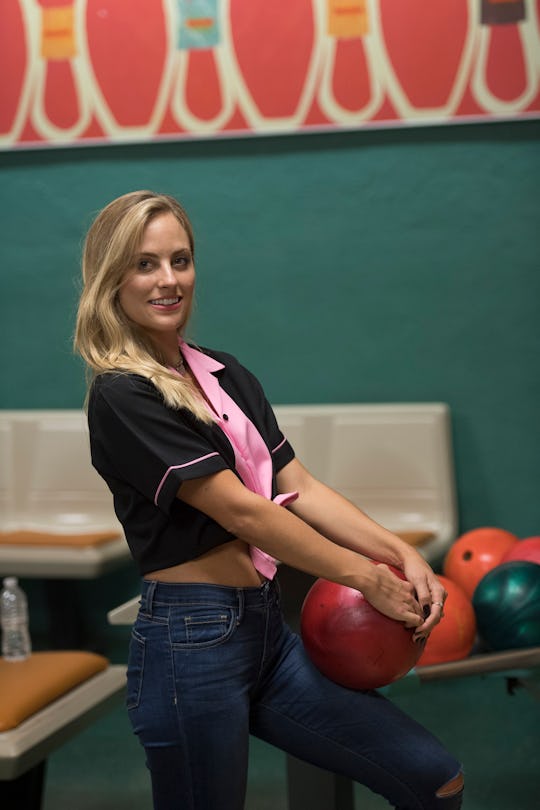 Paul Hebert/ABC
Arie Tried His Hand At Taxidermy On Kendall's 'Bachelor' Hometown Date
The time has come for Arie to visit the hometowns of the final four contestants on The Bachelor. I was especially excited for Kendall's, and the show did not disappoint. In fact, Kendall and Arie's taxidermy date on The Bachelor has Twitter fans freaking out already. I'm going to be honest, when Kendall was introduced on the show I had no idea she'd make it to hometowns; I mean, she sang to a stuffed seal — that's not traditional Bachelor fare. I'm thankful, though, especially because of this date.
Once the episode began, the two were in Kendall's hometown of Santa Clarita. Not only that, though: Kendall introduced Arie to her "taxidermy room." And wow, she wasn't kidding. The room was full of her taxidermy collection, from small to large animals. Kendall didn't just show Arie her hobby, though; she wanted him to get involved. So, of course, they made some taxidermy themselves! They stuffed dead rats together and dressed them up as a married couple. This 100 percent happened, but if I didn't watch it myself I wouldn't believe it.
Bachelor Nation was pretty shocked about all this happening, too. And, in true Bachelor Nation fashion, they took to Twitter to express all their feels. Even the official Bachelor account couldn't help but call the date the "weirdest of all time":
Former Bachelorette contestant, Diggy, wasn't the biggest fan of this date:
There was a whole array of different takes about the taxidermy activity:
There's a lot of "it's a no from me, dog," going around on Twitter and I get it. I'm not into taxidermy, either, and if my first one-on-one date (yes, Kendall and Arie have never had a solo date up until now) with someone featured a lot of taxidermy, I probably wouldn't take it too well. But Arie took it like a champ and seemed into it... after awhile, at least. And I applaud Kendall for not hiding her unique hobby from Arie or producers.
Arie admitted to Kendall that he's falling for her and this was after the whole rat thing. That's pretty telling, considering that The Bachelor's Twitter was right, this is probably the weirdest date of all time on the show. I noticed that he didn't drop the word "love," though. Last week, Arie told Lauren B. he loves her. So the fact that he hasn't been as revealing with Kendall could be telling.
"Watching previous seasons, the Bachelor doesn't usually reveal how he feels about somebody," Arie told PopSugar in an interview. "I went and asked production, 'Can I tell this person how I feel about them?' And they said, 'Yeah, of course, do whatever you want.' So I did." There you have it: the lead can say "I love you," even if there's a few other women left. Some viewers may be wondering why the show doesn't just end, but apparently Arie says "I love you" to more than one woman this season.
Is the other woman Kendall? Well, they didn't exchange "I love you's" during the hometown date. In fact, except for the taxidermy date, nothing much happened during it. Kendall introduced Arie to her family, and they were (rightfully) skeptical of the whole thing, but that's pretty standard for Bachelor hometown dates. After all, Arie is trying to get engaged two months after meeting someone... so her family's worry is justified.
Regardless, I don't think Kendall's taxidermy hurts her chances. In fact, it's one thing that makes her unique and stand out against the other contestants. No matter what happens on the show, Kendall can find comfort with her close-knit family... and her collection of dead, stuffed animals.
Check out Romper's new video series, Romper's Doula Diaries:
Watch full episodes of Romper's Doula Diaries on Facebook Watch.