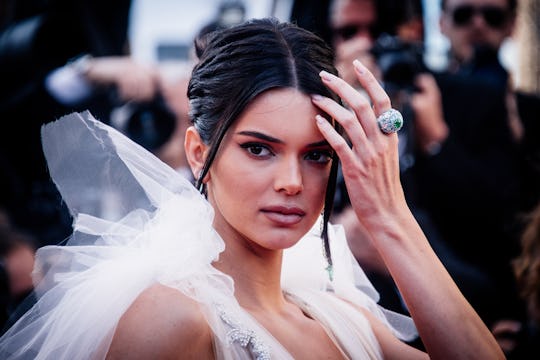 Gareth Cattermole/Getty Images Entertainment/Getty Images
Aunt Kendall Has Lots Of Nieces & Nephews, But She's Especially Close To One For A Sweet Reason
Out of all of the KarJenner siblings, just one doesn't have kids: Kendall Jenner. Instead, she's been hyper-focused on her career as a model, but whenever she needs to get her kid fix, she can just hang out with her sisters and her nieces and nephews — and a lot of them. Of she loves all of them, but in a new interview, Jenner said she feels especially close to one for a very adorable and totally understandable reason.
Jenner is no stranger to being an aunt — she's been one since older sister, Kourtney Kardashian gave birth to her first child (and the first of the next generation of Kardashian), a son named Mason, in 2009. And in the past year, the Kardashian-Jenner family has welcomed a lot of babies. In January, Kim Kardashian welcomed her third child, a daughter named Chicago, into the world with husband, Kanye West, according to CNN. A few weeks later, Kylie Jenner gave birth to her first child, a daughter named Stormi, according to Vanity Fair. And in April, Khloé Kardashian gave birth to her first child, also a daughter, named True, according to E! News.
Needless to say, that's a lot of birthdays for Jenner to keep up with — not that she seems to mind. In the past, she's talked about how much she enjoys being an aunt. But there is one baby in particular that Jenner feels especially close to — and that is Kylie's daughter, Stormi. In a new interview with People at an event this past weekend, Jenner revealed that she feels "a really special connection to Stormi."
Awwwwwwww.
Jenner elaborated, telling People:
I don't know if it's that Kylie is my little sister, but I was hanging out with her the other day at lunch, and we were just sitting, and [Stormi] was just so comfortable with me, and it made me so happy.
That is so sweet. Unfortunately, there isn't some super scientific reason to explain why she feels so close to Kylie's daughter and not her other sibling's kids — and it's not because she was there (through FaceTime) for Stormi's delivery. It probably comes down to the fact that the Jenner sisters are only two years apart, according to The Sun, and have grown up doing a lot of things together — like designing their own clothing line, according to Harper's Bazaar. So, Jenner's strong connection to Stormi is probably because the bond that she has with Kylie is just so strong.
In fact, Stormi's birth brought the sisters even closer. In March, Jenner told Vogue that Stormi's birth completely changed her relationship with Kylie. "To see my best friend growing up have a baby? It's made us even closer," Jenner said, according to Vogue. Five months later, her stance on Kylie as a mom hasn't really changed. Jenner told People over the weekend that she isn't ready to have kids, but loves watching Kylie be a mom to Stormi.
"I still have years that I want to spend for myself for a little while, but more power to [Kylie], man, she is built for this, she is an incredible mom," Kendall told People.
Now, just because she admires her sister (and loves Stormi), that doesn't mean that she has baby fever or is trying to have a baby of her own any time soon. In her interview with Vogue, Jenner said that she is "ready to wait" to have kids. And in the meantime, she told People that she has no problem with borrowing her sibling's children for short periods of time. "I love all my nieces and nephews — I like that I can give them back," she said.
Well said.