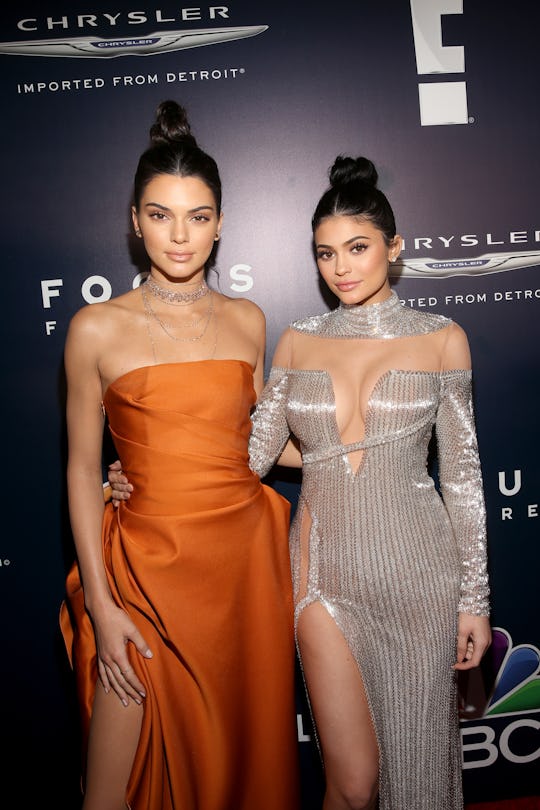 Jesse Grant/Getty Images Entertainment/Getty Images
Kendall Jenner Said Kylie's Pregnancy Was "Weird" For Her, & Older Siblings Will Def Get It
When you find out that your sibling is having a baby — and that you're going to become an aunt or uncle for the first time — it's normal to be just as excited as you are, well, maybe a little weirded out. Having kids is a huge milestone, one that definitely comes alongside a feeling of being a grown up. It's a surreal thing to realize that you've arrived at this point in life, let alone a younger sibling has, which is why Kendall Jenner saying Kylie's pregnancy was "weird" for her is relatable to every older sibling out there.
In a recent interview with Elle, Kendall opened up about Kylie having Stormi back in February. "It's obviously a bit weird that your little sister is having a baby before you," she said. "I didn't expect it to happen like this." She went onto say that it was really a bonding experience for them: "It's brought us closer together. We've always been very close, but we would butt heads all the time. This has made her a bit more loving toward me."
It's understandable that Kendall might have some mixed feelings about her younger sister having a baby specifically. After all, her step-sister Kourtney has 3 already, Kim just had her third, and Khloé just had her first. It's not as though kids are a totally new thing for the KarJenners, but when it's your younger sister coming up on that milestone, it can undoubtedly seem surreal.
Of course, it's also clear that Kendall has been overwhelmingly supportive of this new chapter in her younger sister's life. In an interview with Vogue, she opened up about why the news was so exciting, even more so than it was for her other siblings:
It's not that it's more exciting than any other births in the family—it's different exciting, because she's my baby sister who I grew up with. We all grew up in twos: Kourtney and Kim grew up together; Rob and Khloé; Brandon and Brody; Burton and Casey, and then Kylie and I. So to see my best friend growing up have a baby? It's already made us even closer.
Kendall also told the magazine that, despite not wanting kids anytime soon (she said: "I am ready to wait. I want to have kids, but at, like, 28 or 29") her friends do consider her an honorary mom. "My friends make fun of me and call me Mama Ken because I literally take control of every situation," she said. "I guess I'm a control freak."
Be that as it is, it's clear that she always has her loved ones' best interests at heart. Us Weekly reported that right after Kylie gave birth, she and Kendall went out for dinner together. A source shared: "It was one of Kylie's first nights out [since giving birth to daughter Stormi]. She and Kendall just stuck together and enjoyed dinner and hung out for a couple of hours. They were both in a great mood and left through the back exit."
In the Elle interview, Kendall also mentioned that though she definitely wasn't expecting Kylie to have a baby before her, the way it all played out was "beautiful." Of course, Kylie opted to keep her pregnancy a secret until after the baby was born, in part to avoid the world's judgments due to her age, People reported.
With the new generation of KarJenners only getting bigger and bigger, it's so heartwarming to see Kendall taking such a supportive role as aunt and sister. Though every person is entitled to want or not want kids on their own timeline, it's clear that Kendall is so excited for her younger sister, and that kind of support is actually #goals.