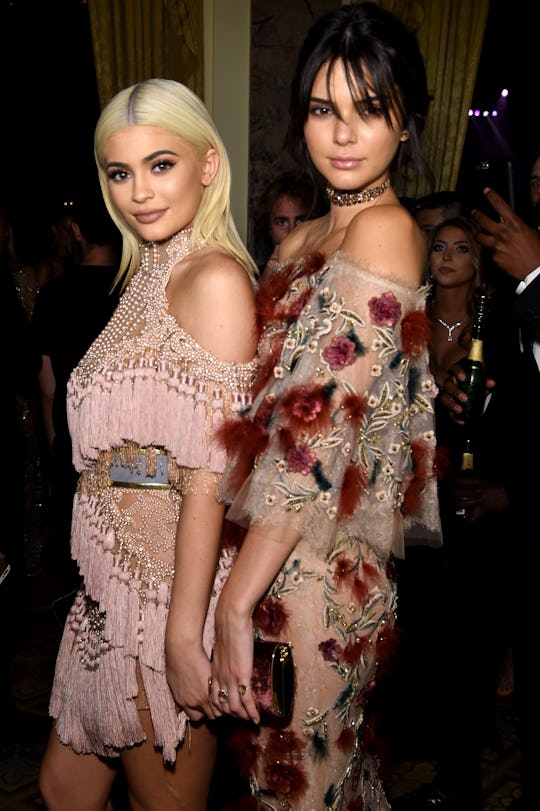 Jamie McCarthy/Getty Images Entertainment/Getty Images
Why Kendall Jenner Says She Has A "Special" Connection With Baby Stormi
If there's anything more exciting than having your own baby, it's probably when your sibling has one (hey, you get all the cuddles without any of the real responsibility, so it's a win/win). Earlier this year, three of the KarJenner women all gave birth to daughters — Kim Kardashian welcomed Chicago, Khloé Kardashian welcomed True, and Kylie Jenner welcomed Stormi — making Kendall the only one of her siblings who isn't a parent. Though she's undeniably excited for everyone in her family, Kendall Jenner shared why her connection to Kylie's daughter Stormi is so "special," and TBH, it makes a lot of sense.
After this spring, Kendall became the only one of her siblings and step-siblings not to have a child, which makes her by default a super special aunt. Though she loves all of her nieces and nephews, she opened up to E! News recently about why she feels so close to Kylie's daughter in particular.
"I just love connecting with them," Kendall began in an interview. "Mason loves video games and I love videos games, so he and I just sit around and bond over video games and rap music and all the things he loves... It's nice when they get a bit older and you can have full conversations with them." She continued, "But I do find a very special connection with Stormi. It could be because she's my little sister's daughter. But we have a nice bond."
It's not the first time that Kendall has opened up about how proud she is of her little sister.
In an interview with Vogue, on which she was the cover star, Kendall opened up about why Kylie giving birth was so particularly exciting for her. "It's not that it's more exciting than any other births in the family—it's different exciting, because she's my baby sister who I grew up with," she told the magazine. "We all grew up in twos: Kourtney and Kim grew up together; Rob and Khloé; Brandon and Brody; Burton and Casey, and then Kylie and I. So to see my best friend growing up have a baby? It's already made us even closer."
Though Kendall admits that it's "weird" her younger sister had a baby before her, she does note that it changed their relationship in a significant and positive way. Kendall told ELLE: "It's obviously a bit weird that your little sister is having a baby before you... I didn't expect it to happen like this. But it's beautiful." She continued, "We've always been very close, but we would butt heads all the time... This has made her a bit more loving toward me."
Of course, amongst all the KarJenner baby news, the question of whether or not Kendall will have her own kids is one that comes up often. Her answer? Yes, but not quite yet. As she told Vogue: "I want to have kids, but at, like, 28 or 29."
However, right now, Kendall is focusing on her relationships and her career. (She just walked again in the Victoria's Secret Fashion Show, Harper's Bazaar reported, which is major for any model.)
She's also taking her time adjusting to life, and prioritizing her mental health. In an interview with LOVE, Kendall opened up about how she almost "had a mental breakdown," and how she's learning to handle her increasing levels of fame. "I feel very, very blessed and I think that I live a very extraordinary life," she began. "I wouldn't change it for the world but there are days where I wish I could walk outside and nothing would be like it is right now."
For the time being, Kendall is focusing on her wellness, her career, and being the best aunt possible. As for whether or not she will indeed have those kids later in her 20s? It's totally up to her. For now, she's commendable for walking her own path, staying true to her values, and loving on her adorable nieces and nephews.