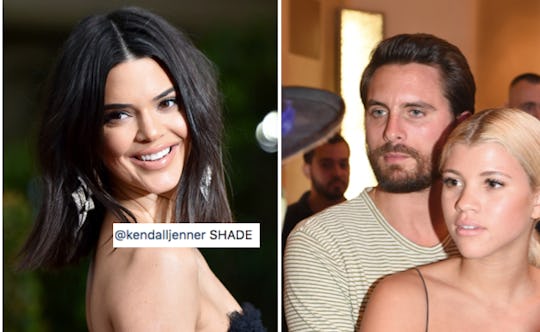 Frazer Harrison/Getty Images Entertainment/Getty Images & Romain Maurice/Getty Images Entertainment/Getty Images
It Looks Like Kendall Jenner Shaded Scott Disick For Dating A Younger Woman & Fans Are Losing It
There's a lot of talk lately about whether Kylie Jenner is actually pregnant and when Kim Kardashian will post an adorable photo of baby Chicago West. But there's a lot more going on over in Calabasas, like Kendall Jenner seemingly burning Scott Disick for dating a woman, Sofia Richie, who's more than 10 years younger than him. And as soon as fans spotted it, they collectively freaked out.
Disick — who shares three children with Jenner's older sister, Kourtney Kardashian — has reportedly been with Richie for several months and was recently spotted leaving a restaurant with her along with two of his children, 8-year-old Mason and 5-year-old Penelope, according to E! News. The outlet reported that this would be the first time that Disick, who's 34, and 19-year-old Richie have been a seen in public with any of Disick and Kardashian's three children.
Photos of the outing were posted on a fan Instagram account, @scottthelord, and a comment that was reportedly left by Jenner's official Instagram account read, "Awww Scott and his kids," along with a smiley face emoji, as E! News reported. The comment on the photo has since been deleted and People grabbed screenshots of it beforehand, but plenty of fans noticed it before disappeared. Romper's request for comment from Jenner's rep was not immediately returned.
Some fans seem to think that Jenner was throwing shade at Disick for dating a woman who's 15 years his junior. "shade so real," one fan commented, while another wrote, "ooo throwing shade?" Yet another chimed in, "sister goals."
However, many of the comments hit back at Jenner, referencing Kourtney Kardashian's current boyfriend, Younes Bendjima. She's 38, he's 24 — a 14 year age difference. "Guess Younes is Kourtneys [sic] child then too given that he's 14 years younger then [sic] her... if someone's happy, let them be," one Instagram user commented on the photo. Another wrote while tagging Jenner, "do you think she realizes the age difference between kourtney and her bf?"
Another batch of comments took aim at Jenner's mom, Kris Jenner, and her current partner, Corey Gamble. She's 61 and he's 36 — a 25 year age difference. "Isn't your mama though with a guy almost 30 years younger than her?" another fan chimed in.
It can be hard to keep up with the Kardashians, especially since the family has been on the air for more than a decade. Relationships have come and gone and bouts of drama have unfolded and fizzled away. But for those who do keep up with the Kardashians regularly, it seems as though Kourtney Kardashian has done her best to move on from Disick. As E! News reported, Kardashian met Bendjima in October 2016 and they've been romantically linked for nearly eight months.
In a recent episode of Keeping Up With the Kardashians, as Us Weekly reported, it also appeared as if Kardashian has no qualms with the age difference between her and Bendjima when she recounted a heated late-night phone conversation with Disick about their respective relationships.
"By the end of the conversation, I just was like, 'I have a boyfriend, he's 24 years old. It's not the craziest thing that's ever happened in the world!" she told her sister Khloé Kardashian of the phone call, according to Us Weekly. "And he was like, 'He's your boyfriend?!' And then he hung up the phone."
Moving on from a long-term relationship is no easy feat, especially when you're trying to co-parent with three young children the best you can. Although Richie is young, she is over 18 and her relationship with Disick is totally legal, and the age difference between Kardashian and Bendjima is comparable. Perhaps Jenner's comment was a knee-jerk reaction in defense of her sister or maybe there's some KUWTK plot twist in the making fans aren't aware of just yet. Either way, there's no doubt that these Kardashian-Jenner sisters are thick as thieves.
Check out Romper's new video series, Romper's Doula Diaries:
Watch full episodes of Romper's Doula Diaries on Facebook Watch.