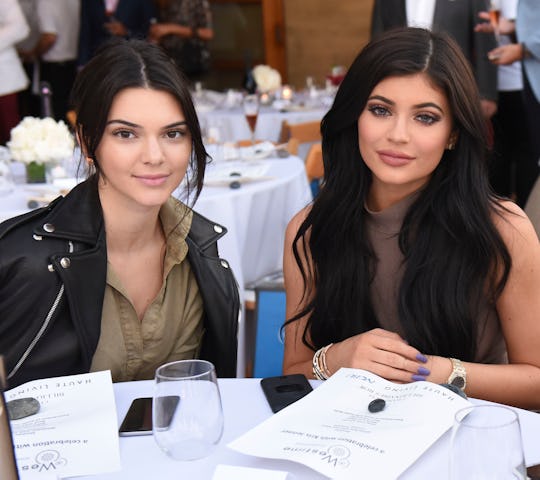 Vivien Killilea/Getty Images Entertainment/Getty Images
Kendall Jenner Reveals Why Becoming An Aunt To Kylie's Daughter Stormi Was "Different"
When Kylie Jenner took a break from social media during the last few months of 2017, people really missed her. But she had a great excuse for this absence — she was taking time to herself to focus on her pregnancy before giving birth to a daughter, Stormi in February of this year. But with her baby's arrival and return to social media, those close to her (like her siblings) are now opening up about Kylie and her pregnancy (which is awesome). In her first interview since her niece's arrival, Kendall Jenner talked about becoming an aunt to Stormi and it could not be any sweeter.
Kendall is no stranger to being an aunt. Her older siblings — Kourtney, Kim, Rob (and soon to be Khloé) Kardashian all have kids of their own. Because of this, she is definitely used to little kids calling her "Aunt Kendall." But when her own little sister, Kylie, who is just two years younger than her gave birth to a daughter in early February, things changed. At least, this is what she told Vogue in a new interview, according to People.
Although the birth of each niece and nephew was super exciting, Kendall revealed that Stormi's birth was just a bit different, according to People. "It's not that it's more exciting than any other births in the family — it's different exciting because she's my baby sister that I grew up with," Kendall told the publication.
Kendall's words are incredibly sweet and shows how close Kendall and Kylie really are. "To see my best friend growing up having a baby?," Kendall asked, according to People. "It's already made us even closer."
Although fans saw both of them grow up together on Keeping Up With The Kardashians, now that they're older, it's super easy to see both of them as two separate people. This is why that it's pretty cool that Kendall is opening up about her friendship with Kylie and reiterating the fact that they are close, as if people didn't know that already. In fact, the two of them had spent time together during Kylie's pregnancy. In Kylie's video where she documented the weeks leading up to giving birth, you can see Kendall and (then-pregnant) Kylie, hanging out on a trip to the mountains.
Kendall and Kylie have done a lot together — they've shared magazine covers, starred in the same reality show, designed a clothing line, and written books together. But their bond is typical for siblings. During an episode of her own reality show, Life of Kylie, Kylie revealed that Kendall often borrows her clothes, according to W Magazine and like most siblings, they both have their differences. "Kendall and I, I don't think we'd be friends if we weren't sisters," Kylie said.
And during another episode of Life of Kylie, according to Metro, Kylie admitted that she was even jealous of Kendall and her friends. But it can take the smallest things to bring siblings together and from the sound of it, Stormi's birth definitely did that.
In the interview, it was revealed that Kendall also has a maternal instinct and takes care of her friends when they're drunk. But just because she's OK with taking care of people in their 20s doesn't mean she's ready to take care of babies just yet. "I'm ready to wait," Kendall told Vogue. "I want to have kids but at like, 28 or 29."
Until then, Kendall can gain plenty of experience by hanging out with her nieces, nephews, and the newest addition to the family, Stormi. By the sounds of it, she is definitely enjoying doing that while spending time with her baby sister at the same time.
Check out Romper's new video series, Bearing The Motherload, where disagreeing parents from different sides of an issue sit down with a mediator and talk about how to support (and not judge) each other's parenting perspectives. New episodes air Mondays on Facebook.