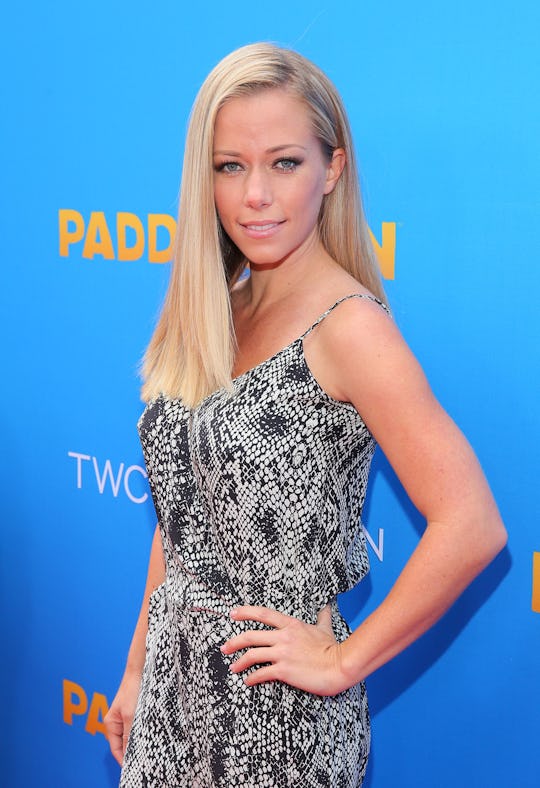 Mark Davis/Getty Images Entertainment/Getty Images
How Kendra Wilkinson Called Out Mom-Shamers Will Make You Say "Amen To That"
It's no secret that mom-shaming is, to put it lightly, a completely out of hand phenomenon fueled largely by social media accessibility. But policing moms on what they should or shouldn't be doing isn't new or modern: it's been happening at dinner parties, from in-laws, and amongst friend groups since time immemorial. But the expectation that moms do everything "perfectly" seems to omit a few key facts: no two kids, parents, or parenting styles are the same, there is more than one right way to be a mom. And even if there weren't, it is nobody else's place to condemn someone else for their choices. Speaking out on how frustratingly common this can be, Kendra Wilkinson's message to mom-shamers is a reminder that this culture of judging other parents, celeb or not, is really getting out of hand.
On Sunday, Wilkinson posted a photo of her son to her Instagram page, and pleaded with mom-shamers, offering a call to action. "Anyone who says anything negative about me as a parent are only going against what my kids see in me. I don't get the hate at all. We can sit here n judge each other as moms n parents all day but what good is that doing?" she began.
She continued, "The way your kids see u n love u is all that matters. We all have a story and that's what makes us all unique. My kids and I'm sure yours would be devastated to know that grown a** adults are criticizing their mothers n fathers. We are all doing the best we can."
Wilkinson continued the post by explaining that just because people have different lives and different approaches to things doesn't mean one is better than another. On top of that, it doesn't help anyone to be constantly inundated with unnecessary, uninvited criticism. It seems to be a much-needed reminder that until you've walked a mile in one mom's shoes, you are in no position to be judging her for her pace. Wilkinson added in her post:
People have different stories but that doesn't mean they are bad. It's a shame that our kids have to grow up in a world of such harsh criticism. It's only hurting our next generation n not helping. Stop the hate and stop the abuse but always encourage love n respect people's ways. I love hearing people's parenting techniques n would never judge someone unless there's hate involved.
Fans and followers immediately clamored to express their support for Wilkinson, and agreed that a lot of the criticism goes way too far. "Why do women knock each other down? How do those women teach their children NOT to bully as they bully each other?" one such comment read.
This was not the first time that Wilkinson posted a thoughtful message about parenting. On May 28, for instance, she posted a selfie with her kids, saying: "I'm doing the best i can in my life with the cards I've been dealt and I will continue to do that. I'm hurt because the world I thought was promised to me forever is now coming to an end."
She continued explaining that she's "not perfect" in the way that she reacts to pain, but that her kids, parents, friends and therapy have been helping and that she'll be able to "breathe again soon," as Us Weekly reported. She added in the same post that "love will always win" in her heart, and she believes that even in spite of what she's experiencing.
The pain she's talking about is likely in reference to her recent divorce from former husband Hank Baskett. A day after she posted the below photo, she announced that she was moving out of the home they shared, as People reported, asking fans for strength and prayers as it broke her heart to have to leave the home she worked so hard for.
Wilkinson announced her divorce on Instagram this past April. "Today is the last day of my marriage to this beautiful man. I will forever love Hank and be open but for now we have chosen to go our own ways," she captioned a photo of the two of them, as Radar Online reported. "I'm beyond sad and heartbroken because I did believe in forever, that's why I said yes but unfortunately too much fear has gotten in the way. We are both amazing parents and our kids will be happy n never know the difference other than seeing mama smile."
It's clear that for now, Wilkinson is focusing on being the best parent and person that she can be. While she adjusts to her new life as a single mom, it's yet another reminder that you simply don't know what's best for another person until you've been in their shoes. As that's impossible, it's probably just best for mom-shamers to mind their own business.