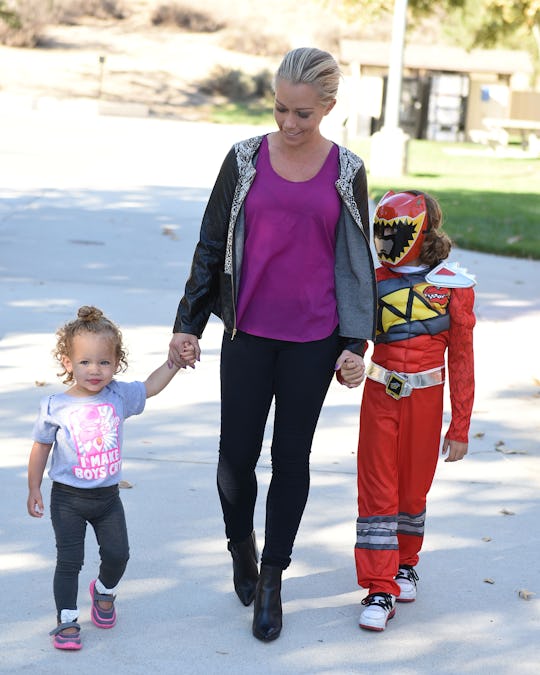 Angela Weiss/Getty Images Entertainment/Getty Images
Kendra Wilkinson's Stretch Marks Photo Reminds Moms Everywhere To Be Proud Of Their Bodies
When taking a photo that you deem Instagram-worthy, most women are usually busy trying to figure out how to make their stomachs seem flatter and widen whatever thigh gap they have, all while sporting a winning smile to capture that picture-perfect moment (not they need to do those things, because they're already amazing enough). Not so with Kendra Wilkinson. Over Mother's Day weekend, model and reality star Wilkinson posted a photo of her stretch marks from her two pregnancies, remind moms everywhere to be proud of their bodies and battle scars. (Seriously, you grew a human — that's pretty hardcore.)
While the former Playboy bunny is perhaps more well known for modeling her athletic figure in various magazines and fitness spreads, her post baby body is realistic. Better yet, she's busy focusing on the things about it now that remind her of why she's so lucky.
"Look what my 2 babies did… They made me happy #happymothersday," the former Girls Next Door star captioned in her Instagram photo. The photo showed off how her former six pack abs had changed after having two little ones, 6-year-old Hank and 23-month-old Alijah Mary.
During her Playboy years, Wilkinson spent much of her time working out and staying active in a variety of ways. Today, the Kendra On Top star still maintains that same healthy attitude but is more than happy to show off how her life has shifted between living it up in Hugh Hefner's swank mansion to becoming a mom of two.
Wilkinson has previously opened up about she severely struggled with postpartum depression after the birth of baby Hank as well. In an interview with In Touch Weekly, Wilkinson talked about the pressure she felt to lose her baby weight as other Hollywood moms bragged about getting their bodies back in a matter of weeks. She recalled how she had developed poor body image and avoided hanging out with her "hotter" friends.
"It took me two years to not only get my body back, but to feel like myself again," Wilkinson said.
Wilkinson's Mother's Day post proudly shows off her imperfections and how content she is with her post-baby body. She's even made an effort to showcase on her various channels how difficult it can be getting back into shape after delivering two adorable kids, which it pretty amazing in and of itself.
It's no secret that celebrities have more time and resources to get their bodies back after giving birth, but Wilkinson's stretch mark photo shows how relatable the journey is and what realistic standards are like for many moms. The now-famous post has recieved an outpouring of support from fellow moms who feel she's given them a realistic view of what post-baby struggles are like, even for those in the public eye.
Wilkinson is right: Growing a person is no easy feat. Go ahead and flaunt your post-pregnancy bod wherever you'd like, whether on Instagram or at the beach. You deserve it.