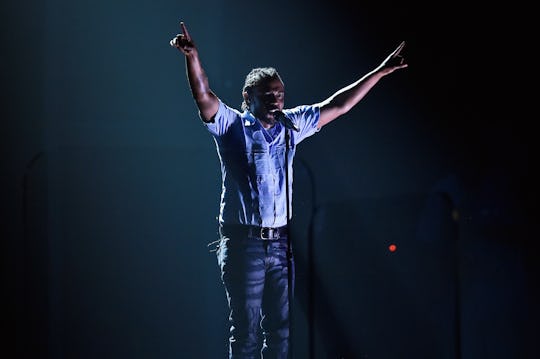 Kevork Djansezian/Getty Images for NARAS
Kendrick Lamar's Grammys Performance Was Incredible & Incredibly Important
While the Grammys are often known for fodder, fun, and a night of overindulgent celebration, it also provides a platform for important social commentary. That ability and opportunity wasn't lost on one performer, as Kendrick Lamar's Grammys performance was politically charged, incredible, and incredibly important.
Lamar took the stage shackled in handcuffs, shuffling in small, labored steps while wearing a jumpsuit that mimicked what a prison inmate would wear. Joining him were other dancers, who looked to be inmates as well, with a backdrop of prison bars and cells and what can only be described as cages. If Lamar's visible aids didn't provide an adequate glimpse into the artists' message, his lyrics certainly did.
After accepting a Grammy award for Best Rap Album, and dedicating his win to all the rappers who weren't given the same (and much deserved) accolades, Lamar bombarded the Grammy stage with truthful, powerful, and necessary lyrics like, "I can see the evil, I can tell it I know when it's illegal," and, "I remembered you was conflicted. Misusing your influence, sometimes I did the same. Abusing my power full of resentment. Resentment that turned into a deep depression," and (and if this doesn't stop you in your tacks and send shivers down your spine, I don't know what will) "February 26th I lost my life, too. 2012 set us back 400 years".
The commentary on the current racial tension and deep-seeded racism plaguing our country was something everyone needed (and clearly will continue to need) to hear, on a platform as powerful and widely watched as the Grammys.
The importance — and undeniable power — of that moment and Kendrick's performance wasn't lost on the viewers. Many took to Twitter to voice their thoughts on a performance so many will be talking about for years to come. Here are just a few of the reactions:
Lamar's performance stole the Grammy show for one undeniable reason: It was raw. It was raw and real and a truthful representation of the many problems many seem to try and overlook on a daily basis. After Beyoncé's now-controversial Super Bowl performance, many criticized her for using an entertainment platform to voice a political message. There's a time and place, some said. This isn't an appropriate venue, others claimed. But the truth is, the words of black voices like Beyoncé and Kendrick Lamar cannot be silenced, and to do so in an attempt to feel "comfortable" is to selfishly deny an overwhelming privilege that fosters ignorance and allows for palpable deniability. Media shapes the way we view and perceive and digest the world, and to keep the very real, often heartbreaking and undeniably painful truths of a reality that is plaguing our country and the countless people of color who call it home, out of our media, is to re-write history. It is to dishonor the lives lost fighting for equality and social justice. It is to, for lack of a better word, lie.
Systemic racism cannot be ignored. It is a part of everyday life, and plagues the day-to-day of millions of Americans on a dangerous and all-encompassing basis. Kendrick Lamar made that reality an undeniably powerful performance that no one — regardless of race or religion or creed or even musical preference — cannot possibly deny.
And that, friends, is how you evoke change.