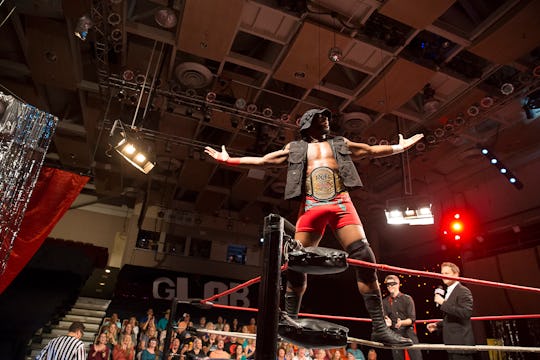 Paul Hebert/ABC
A Special Guest Wrestled Arie On 'The Bachelor' & It Was The Perfect Cameo
During every season of a Bachelor franchise show, there tends to be fan favorites that, regardless of likability, don't make it super far. Last season on The Bachelorette, that favorite was Kenny King — but thankfully, he made time to return to the show. Kenny wrestled Arie on The Bachelor and it was the perfect cameo.
As a professional wrestler, Kenny "The Pretty Boy Pitbull" King was a great opponent for Arie on a GLOW (Gorgeous Ladies of Wrestling) group date. I have to admit, once I saw some real GLOW wrestlers, I thought they were the only guest stars. But once I saw Kenny, I was delighted to realize I was wrong.
For those who don't remember Kenny (for shame) or who didn't watch last season of The Bachelorette (for shame again), Kenny was a then-35-year-old looking for love with Rachel. Besides his career, what made Kenny stand out was the fact that he is a single father to 10-year-old Makenzi. On Kenny's ABC biography, he said that the person he loves most is "My daughter. She is literally my reason for living. She makes my life better." Every step of the way with Rachel, Kenny would consider how Makenzi would feel to have her in their lives. Eventually, Kenny left the show because he couldn't be away from Makenzi any longer, but he left Rachel on great terms, though he was sorely missed.
Since Kenny and Rachel parted on such good terms, it seems that was the case with producers, too. Kenny returned on Monday night's episode of The Bachelor during a wrestling-themed group date. Before the contestants went head-to-head in a GLOW-like competition, Kenny "wrestled" with Arie. Arie won, aka Kenny let him win, but it was still pretty fun to see. Apparently, though, Kenny's appearance was supposed to be punctuated by a jab at Arie. According to Fansided, Kenny was supposed to call out Peter from last season on The Bachelorette. During the match, he said "This is for Peter!" — referencing not only his fellow contestant, but the fact that Peter was in the running for The Bachelor this year.
While that bit was cut out — I can't imagine why! — that doesn't mean that people from Kenny's season didn't take notice to seeing him appear on their television screens once more. Rachel, last season's lead, showed her support on Twitter:
See? Everyone loves Kenny. I'm going to be honest, he's what I liked most about that group date. In fact, he's really the only thing I liked about it. Women physically fighting? Over a man, no less? Pass; I know this is The Bachelor, so I don't know how "woke" I can expect this show to be, but I thought this date was a little unnecessary. Also unnecessary was the attitude of the real GLOW wrestlers towards the contestants. They seemed to keep berating these women... that may be how GLOW operated, but this is 2018 people. Not going to fly.
I wasn't the only one unhappy with how the date went down. Twitter seemed pretty displeased:
Ugh. Well, that only means that Kenny was the best part of the date. I'm personally so happy he returned to the show. Maybe someday he'll return as The Bachelor himself. If his Instagram is any indication, the only woman in his life is still Makenzi. In case Kenny wants to change that, I'm sure there are plenty of women in Bachelor Nation who would oblige (including some of Arie's contestants, to be honest). For now, though, they can get their Kenny fix during this episode and on social media.
Check out Romper's new video series, Romper's Doula Diaries:
Watch full episodes of Romper's Doula Diaries on Facebook Watch.