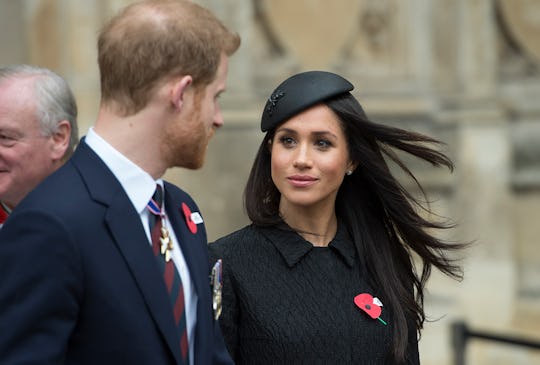 WPA Pool/Getty Images Entertainment/Getty Images
Kensington Palace Released A Statement Amid Meghan Markle's Father's Photo Scandal
Say it isn't so! As you probably know, the royal wedding of Prince Harry and Meghan Markle is this coming Saturday, May 19. Per tradition, the father of the bride is typically the one who walks the bride down the aisle on her wedding day. However, in a complete 180-degree turn of events, not only will Meghan Markle's father not be walking her down the aisle this weekend — but he won't even be in attendance at the royal wedding at all. The decision comes after Thomas Markle staged photos with paparazzi "getting ready" for his daughter's big day. Now, Kensington Palace has released a statement amid Meghan Markle's father's photo scandal — and it's pretty much a drama-filled train wreck.
This unexpected turn of events comes just 10 days after Kensington Palace confirmed Thomas Markle would be serving the honors of walking Meghan down the aisle, Elle reported. "Both of the bride's parents will have important roles in the wedding," a correspondent from Kensington Palace wrote in a statement released on May 4. "On the morning of the wedding, Ms. Ragland will travel with Ms. Markle by car to Windsor Castle. Mr. Markle will walk his daughter down the aisle of St George's Chapel. Ms. Markle is delighted to have her parents by her side on this important and happy occasion."
So let's start back at where it all began with the photos, shall we? In early April, photos of Meghan Markle's dad apparently preparing for the royal wedding started making rounds online. These included shots of him reading a copy of Images of Great Britain: A Pictorial Tour Through History at an internet cafe, being fitted for a suit, and working out, the Daily Mail reported. Except, it was all staged. Because video footage proving Thomas Markle had "secretly collaborated with a British paparazzi photographer to stage a series of pictures," recently surfaced, according to the publication. TMZ caught up with Thomas Markle on Monday, when he had just checked out of a hospital after having a heart attack six days ago. The publication reported:
Markle tells us over the last year he's been ambushed by paparazzi who have photographed him in the most unflattering circumstances ... buying beer, looking disheveled and reclusive. He's especially upset that they made him look like a lush ... Thomas says the paparazzi agency approached him, offered him money — though nowhere near the reported $100k — and he figured there was no harm in it and it would help recast his image.
In yet another twist to the plot, Meghan Markle's half-sister was the one who arranged the staged photos, the Daily Mail reported. Regardless of who masterminded the photo-ops with paparazzi, it was revealed on Monday that Thomas Markle made the decision not to attend the royal wedding. Reportedly, it's because he doesn't want to embarrass his daughter or the royal family, according to People. A source close to Meghan Markle reportedly told Us Weekly, that "Meghan is upset and disturbed by the entire ordeal and just wants to move past it. She doesn't want to let anything ruin her day and is trying to keep focus on the weekend."
The whole photo scandal/Thomas Markle not attending his daughter's wedding even elicited an official response from the Royal Family. "This is a deeply personal moment for Ms. Markle in the days before her wedding," a Kensington Palace spokesman said in a statement on Monday, May 14, Us Weekly reported. "She and Prince Harry ask again for understanding and respect to be extended to Mr. Markle in this difficult situation."
Yikes. I don't even know what to say, here. Although it has been reported that Meghan Markle has had a strained relationship with the paternal side of her family, The Sun reported, I was actually happy for them when I heard about her father walking her down the aisle. At least they could put their differences aside for her special day, right? In my opinion — as drama-filled and awkward as the staged photos situation is — I think Thomas Markle should swallow his pride and just be there for Meghan. Just show up, do his duty, and don't make scene. Unless it was actually Meghan who make the decision for him? In that case, I wouldn't blame her; maybe it's best to avoid drama at all costs.
As People reported, the most obvious choice for Thomas Markle's replacement would be Meghan's mother, Doria Ragland, who will already be at Windsor Castle for the ceremony. Prince Charles or Prince Phillip might also be acceptable alternatives. (You know, if a woman walking the bride-to-be down the aisle somehow doesn't jive with royal protocol.) Whatever happens on Saturday, I hope Prince Harry and Meghan Markle are able to focus their attention on each other. Because they — and the world — have been waiting for this day for far too long for some silly photo scandal to distract from their big day.