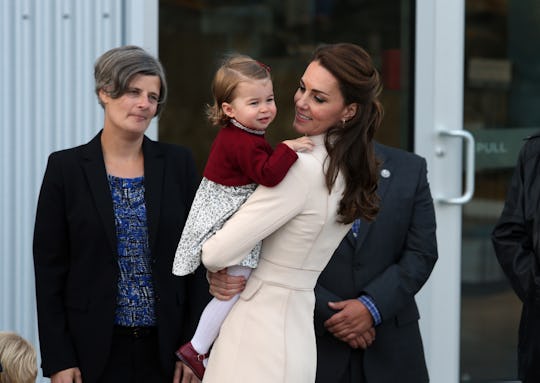 Pool/Getty Images Entertainment/Getty Images
Kensington Palace's Birthday Tweet For Charlotte Is Adorable
It's hard to believe that the youngest member of the British Royal family – Princess Charlotte — is about to turn 2 years old on Tuesday. Oh, how the time flies. On Monday, the world was given a glimpse of just how much the little princess has grown in her first two years, as Kensington Palace's tweet for Princess Charlotte's second birthday revealed in a stunning photo of the royal daughter. "The Duke and Duchess are delighted to share a new photograph of Princess Charlotte to mark her second birthday tomorrow," the official Twitter account for Prince William and Kate Middleton read, before closing with a balloon emoji.
The photo itself was taken by Middleton at their family home Anmer Hall in Norfolk, a county north of London. Middleton's photo shows Princess Charlotte Elizabeth Diana wearing an adorable yellow wool cardigan decorated with little blue sheep around the collar. Her hair is parted to the side, clipped into place with a matching blue bow. Princess Charlotte is channeling her inner McKayla Maroney with a smile bordering on bemused smirk for the photo.
Princess Charlotte's second birthday portrait appears far more formal compared to older brother Prince George's second birthday photo, when he was shown in a candid closeup with dad Prince William.
And while the photo of Princess Charlotte is certainly getting plenty of attention, a parody Twitter account for Kate Middleton has offered its own amazing caption of Princess Charlotte's second birthday portrait. "My adorable Princess Charlotte," the parody account tweet begins. "In 20 years she'll be falling out of nightclubs with North West, Blue Ivy and Harper Beckham. #BabySquad" Monday morning's "I can't even" moment has been brought to by a Duchess of Cambridge parody account, ladies and gentlemen.
Now, let's talk about that caption for a hot minute... Is Princess Charlotte friends with North West? Celeb gossip website Hollywood Life reported that Kim Kardashian and Kanye West received a congratulatory phone call from Prince William and Kate Middleton after the birth of their second child, Saint West — but there doesn't seem to be any official information on playdates between 3-year-old Nori and Princess Charlotte, as it appears that the Royal Family hasn't yet met Kimye in person.
But what about Blue Ivy? Kate Middleton and Beyonce first met courtside at a Nets game in 2014. At the time, they were both moms of one, and prior to that moment, it doesn't seem as though Prince George had yet been graced with the pop culture royal presence of Blue Ivy. But now that Blue Ivy is about to be the big sister to twins, I'm pretty sure heads will explode if the Carter kids start hanging out with Princess Charlotte and Prince George.
As for Harper Bechkam, Princess Charlotte and the reigning little queen of British fashion don't seem to have any playdates lined up yet, either. But man oh man, what a power pack of posh fashion those kids would be together, am I right?
A girl can always dream. Happy birthday, Princess Charlotte!
Correction: A previous version of this article mistook a parody account's tweet as Kate Middleton's. Romper regrets the error.