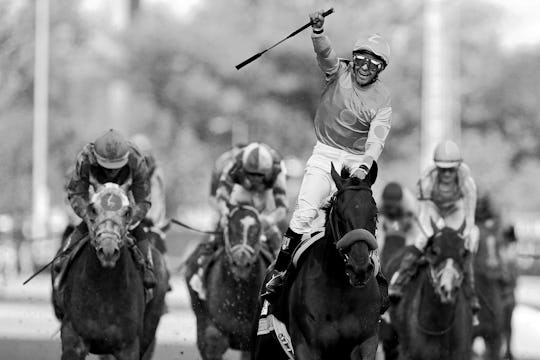 Chris Graythen/Getty Images Sport/Getty Images
Kentucky Derby Memes & Jokes That Will Make Even Non-Racing Fans LOL
Break out the muddling equipment and that seersucker suit, the Kentucky Derby is back this weekend! On Saturday, 20 horses will run the annual race at the Churchill Downs track in Louisville, Kentucky. Far from just a sporting event, the Derby is, according to the race's site, "a celebration of Southern culture and a true icon on Americana." Even those who've never seen a horse up-close know about the Kentucky Derby and winners can become national heroes (just look at Seabiscuit). The Derby has a lot to offer non-horse-y people too: Mint Juleps come to mind. But, in all it's tradition and grandeur, the whole event can frankly be a little silly. The hats, the drinks, the horses' names can quickly become absurd, and because of that there will likely be plenty of Kentucky Derby memes and jokes hanging around social media this week that will make even non-racing fans laugh.
"The Kentucky Derby, whatever it is—a race, an emotion, a turbulence, an explosion—is one of the most beautiful and violent and satisfying things I have ever experienced," famed writer John Steinbeck once wrote. The longest running horse race in America, the Kentucky Derby has been held on the first Saturday of May every year since 1876. It draws a crowd of roughly 155,000 people and caps off a week of food, music, events, and smaller races held at Churchill Downs.
Watched around the globe, the prized derby brings the best race horses from the past racing season together to compete. "The Run for the Roses," as it's called, is the most prestigious event in horse racing.
Or, as twitter user Joshua Lyman (shout of to all my West Wing fans!) calls it, Derby day is "the one day of the year we all pretend to know anything about horse racing."
Confession time: I've never seen the Kentucky Derby and I'm a little afraid of horses. (Suffice it to say, I had to google most of the facts in this piece.) But if you too are Derby-illiterate, don't worry. The following will teach you a thing or two about the race and make you giggle. Just relax, read, and think of Ryan Gosling:
Wait… It's Only Two Minutes
Yes, sir! But it's been called: "The most exciting two minutes in sports." The blink and you miss it race is only one and a half miles long.
Fox Sports presenter Katie Nolan compared the race to another momentous, and disappointing, occasion in one's life. "The Kentucky Derby is the most over-analyzed two minutes since losing my virginity," she tweeted.
It goes by so fast, that it can be confusing to those listening on the radio.
Experience Level
Now, there are real horse race enthusiasts who know all of the horses, their stats, and the jockeys' mothers' names. Then there are Kentucky Derby enthusiasts, who don't follow horse racing but love the Derby—and who wouldn't? Hats and alcohol? Count me in! There may be some tension between the two but in the end, does it really matter? According to some, yes:
A lesson can be gleaned from these memes: Don't talk about horse racing unless you really know something about horse racing (kind of a play on the first rule of fight club).
In case you still need something other than fake horse facts to break the ice, here are some horse-y jokes you can crack between Mint Juleps this weekend (at least with these jokes you can be honest about your lack of racing experience):
Q: What is the best type of story to tell a runaway horse? A: A tale of WHOA!
A pony goes to the doctor and tells him, "Doc, I think I'm dying. I have this terrible sore throat." The doctor assures him, "It's okay—you're just a little horse."
Did you hear about the man who was hospitalized with six plastic horses inside him? The doctor described his condition as stable.
Nice.
The Ponies
Let's get to why we are all here: The horses. They are amazing. In 2011, when a horse named Animal Kingdom won the 137th Kentucky Derby, writer Ben Greenman tweeted: "As far as I'm concerned, the animal kingdom has won every Kentucky Derby." (Ain't that the truth!)
Admittedly, some past winners are more cocky than others.
And some can be a bit vain.
But they are all psyched to be there.
If you're worried about what happens to the losing and retired race horses, Conan O'Brien gave us a clear view in 2013. "The winner of the Kentucky Derby was a horse named 'Orb,'" said the comedian on his late-night talk show, adding, "The other horses are now available at the IKEA meatball counter."
Don't listen to Conan O'Brien! Those Swedish meatballs you got from IKEA last weekend were probably fine.
Betting
"Betting on horse racing is just as historic as the sport of horse racing itself." So claims the Kentucky Derby website. So how do you pick a winner? You could read the program, inspect the horses, and listening to experts to pick the most probable winner. Or, you could just bet on the horse with the best name. My pick: Suddenbreakingnews.
Hey, you never know, that horse may win and you could end up looking like Tom Brady in a bow-tie.
The Hats
"The Kentucky Derby: Bringing white women in stupid hats together since 1875," says one twitter user. Well, he's not totally wrong. Although hey, those "stupid" hats took a long time to make, and why single out the women when those seersucker suits are anything but chic?
Still, it's true — most devoted attendees, both male and female, have been prepping for the event all year.
"Between Kentucky Derby and Cinco de Mayo," another Twitter user wisely noted, "drunk people in big hats are about to take up a lot of real estate on your Instagram feed."
Even if you don't understand the race, in the end it's a good party.
Now that you're in the Derby spirit, make sure to head off and enjoy the race while it lasts, everyone. The whole two minutes, I mean.