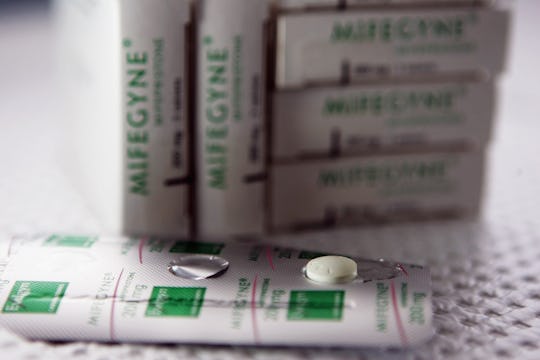 Phil Walter/Getty Images News/Getty Images
Kentucky's Last Abortion Clinic Is Fighting Back
In an unsurprising turn of events, Republican Gov. Matt Bevin of Kentucky is attempting to shut down the state's last remaining abortion clinic. The EMW Women's Surgical Center in Louisville is currently the only location for women in the state to receive medical abortions, after the administration shut down abortive services at Planned Parenthood locations across the state, and other EMW locations. However, EMW is refusing to simply take a loss. Even though Kentucky's last abortion clinic might close, it isn't going down without a fight.
The EMW clinic is faced with an order from the governor's administration to "stop providing abortions starting Monday" following the office's claim that "it lacks proper agreements for patient care in the event of a medical emergency." However, citing the order as "blatantly unconstitutional," the EMW clinic has enlisted the assistance of the American Civil Liberties Union, and filed a lawsuit against the Secretary of Kentucky's Cabinet for Health and Family Services, Vickie Yates Brown Glisson. The lawsuit alleges that the administration's demand that the clinic stop providing abortion services is a violation of the United States Supreme Court's decision in Whole Woman's Health v. Hellerstedt, in 2016. The SCOTUS determined then that the state of Texas can't enforce abortion restrictions on women who may desperately need them.
The main reasoning behind the governor's attempt to halt abortions involves the clinic's "transfer agreements" with local hospitals and ambulatory services, in case a "medical emergency" arises. The letter issued to EMW clinic states that their transfer agreements don't meet state standards. However, according to the ACLU, "the state approved those same agreements last year in renewing EMW's license." According to a senior attorney with the ACLU's Reproductive Freedom Project, Brigitte Amiri, "This is an attempt to ban abortion in Kentucky, plain and simple."
The letter was sent to the clinic on March 13 and initially required that all abortive services be halted within ten days. Though it was extended until April 3, the letter was still "out of the blue," according to the clinic's lawsuit, and alleges false accusations.
Despite the administration's claim that the clinic doesn't provide adequate transfer agreements, EMW claims that in the rare case something goes awry during an abortion procedure, "ambulance companies will readily pick up patients, and hospitals are required by law to accept patients in an emergency."
U.S. District Judge David Hale heard arguments in the case recently, but did not issue a ruling, and the ACLU's involvement as well is still relatively new, so any closure will likely take time for both sides of the argument. Though the EMW clinic has been warned and may be facing dire circumstances, for now, dedicated advocates of women's choice will — for lack of a better term — persist.