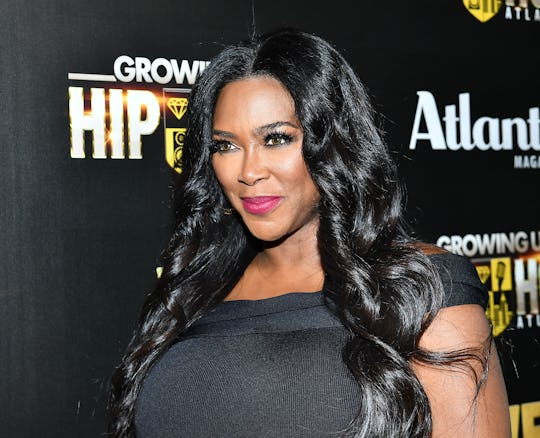 Paras Griffin/Getty Images Entertainment/Getty Images
Kenya Moore Opened Up About Her C-Section Recovery In An Honest Instagram Post
Real Housewives of Atlanta cast member, Kenya Moore, isn't afraid of opening up in front of cameras or to a large group of people. The reality star has brought fans into her life through the show — and is doing so on her Instagram account, too, now that she is a new mom. In a new post over the weekend, Kenya Moore opened up about having a c-section on Instagram and her honesty was so appreciated from followers.
On Sunday, Nov. 4 (exactly one week ago) Moore and husband, Marc Daly, welcomed a baby girl named Brooklyn into their lives, according to Us Weekly. And just like herself on RHOA, Moore couldn't keep away from the drama when it came to delivering her daughter. She revealed to People that she had to have an emergency Cesarean section because she had preeclampsia. Although it was a super scary moment for her, Moore's honesty with fans showed that she was so willing to take them on her journey to becoming a mother — and make other moms feel less alone in the process.
It's been one week since baby Brooklyn's birth, and Moore's life hasn't gotten any less exciting. On Friday, Moore posted a video of herself on Instagram operating a motorized shopping cart in Target. Moore, dressed in leggings and Ugg boots, looked super comfortable and happy to be out running errands — but in the caption of the post she revealed she is still in a lot of pain from her C-section. "#realVsreality," Moore captioned the video.
Moore wrote in the caption just how hard it is for her to do every day tasks — and how it will continue to be hard for her until she fully recovers. "#brooklyndaly came early and the reality is, it will take weeks for me to walk without the excruciating pain of a C section and to heal from multiple cuts to my uterus," Moore wrote. "Needed to get her some preemie items, so of course, off to @target we went."
But RHOA fans know that Moore can't sit still for too long, which is exactly why she went to Target. "I'm supposed to be in bed," Moore wrote on Instagram. But, always one to bend the rules, Moore went shopping with a motorized shopping cart because there were things her daughter needed. Although Moore should be in bed to ensure a speedy recovery, her super honest Instagram post can help so many other women out there going through the same thing. It's relatable, and is just another way that the real housewife keeps it real. But, at the same time, Moore's followers were concerned for her health and urged her to get back to bed.
"You should be in bed!," one commenter exclaimed. "Allow someone else to do all that for you. It's cold outside and you can easily get a set back which will feel worse than the pain from a C-section."
"Don't do this," another commenter wrote. "I did way too much my first time and ended up with an infection and a home care nurse for 3 weeks. Please take it easy."
But others understand where Moore is coming from.
"Welcome to motherhood — we do things we aren't supposed to do all the time for our kids!!!," one commenter wrote. "You look awesome."
It is kind of amazing how put together Moore looked after giving birth just one week ago.
After giving birth, Moore wrote in a post on Instagram that she had "lost a lot of blood" and was feeling "very weak." So, to see her so ready to get back to a normal life after going through something like this is pretty incredible. But, as commenters pointed out, she does need her rest. C-section recovery requires a lot of attention and care, and a full recovery from "an uncomplicated C-section" takes anywhere from four to six weeks, as Dr. Rajiv B. Gala, MD, told Parents.
Although Moore has a lot more time to recover, her Instagram post shows that she isn't going to let anything get in her way of living her life, either. She has only been a mom for one week — but her willingness to share this part of her life with fans has already resonated with other moms and will continue to do so.