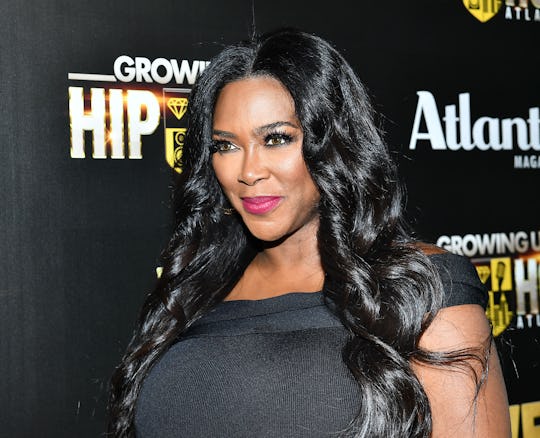 Paras Griffin/Getty Images Entertainment/Getty Images
Kenya Moore Posted A Shot Of Her Post-Baby Belly Three Weeks After Giving Birth
Let's be real. At three weeks postpartum, most moms are still sporting maternity jeans and sweatpants. But not this Real Housewives of Atlanta alum. Kenya Moore is sporting a sports bra and work out pants that reveal an apparently very toned tummy in her recent Instagram selfie. Kenya Moore shows off her post-baby belly on social media and moms have mixed emotions about it all.
The 47-year-old posted a series of pics, celebrating her post baby body in all its glory. The caption read:
"The SnapBack is real! 🙈👀😝😊LOL
I still can't work out yet but I feel much better. I was cut twice during my 3 hr Csection but I made it! I've always been healthy and worked out my entire life... whatever my body will do I'm not rushing it. It feels good to start to feel myself again.
#brooklyndaly is worth every battlescar! #myangel #miraclebaby #motherhood #love #family "
Some Instagram fans were quick to show their support, noting that Moore looks "fabulous."
"You look fabulous! Just be easy on yourself. PRE E is no joke," one user wrote.
"She is my hero!!! She look exactly like she did before the baby!" another added.
But others questioned Moore about her overall health and noted that many moms don't and shouldn't expect to immediately "snapback" to the way they looked pre-pregnancy. These comments point to one important fact: There is a tremendous amount of pressure on new moms to "lose the baby weight."
"Took the words out of my mouth! Got all these over 40 women thinking this is how you look 3 weeks later. Stop playin!!" one follower commented.
"How thooooo 😩" another added.
"So very happy for you and your family. You deserve all the good things that GOD has given you. Don't rush anything. The body needs time to heal. So does the mind. Happy Holidays to you and yours," a third wrote.
It's important to note that every pregnancy, delivery, and postpartum is different for everyone. But this is Moore's personal story.
Moore is currently recovering from an emergency C-section after it was discovered she had preeclampsia, a potentially life-threatening pregnancy-related condition. Preeclampsia causes high blood pressure, edema (or swelling), and rapid weight gain, the Mayo Clinic noted. The pregnancy complication usually starts after 20 weeks of pregnancy and could damage organ systems like the liver and kidneys, which is another reason why it's so important for a doctor to catch.
And, if you have preeclampsia, the most effective way to get rid of it is to deliver the baby, the Mayo Clinic also reported. This might explain why Moore had her baby on Nov. 4 instead of her anticipated Thanksgiving day due date.
Prior to delivery, she posted a pic of her swollen feet on Instagram, captioning it:
I made fun of my swollen feet at @cynthiabailey10 party. Next day my tests came back for possible preeclampsia... I gained 17 lbs in ONE week due to severe swelling and water retention, high blood pressure, and excess protein in urine. This is NOT normal! I took more tests. Baby is fine but if they come back higher #babydaly will have to come same day. Staying positive. To my pregnant sisters please go to your visits and tell the doctor of any drastic changes. Thank God I have great doctors.🙏🏾
Brooklyn Doris Daly is the first child for Moore and her husband Marc Daly.
Moore conceived via in vitro fertilization and announced her pregnancy during the Season 10 RHOA reunion. But she won't be back for Season 11, according to People, so fans will have to rely on her Instagram posts for more on this stage of her life.
"I've waited 47 years for this moment," Moore told People. "I didn't really want to announce it too soon because I feel it's very early on in our pregnancy. But I have suffered so much in my life when it comes to wanting a family around me. So this is the day I've been waiting for my entire life. It's a dream come true."
But back to that mom bod. If this is what three weeks postpartum looks like for Moore, then I'd like to see how she looks (and feels) in the weeks to come. Judging by how much Moore posts to social media, fans will mostly likely get the full scoop on her life as a new mom.
This first-time mom wants to have a home birth, but is she ready? Watch how a doula supports a military mom who's determined to have a home birth in Episode One of Romper's Doula Diaries, Season Two, below. Visit Bustle Digital Group's YouTube page for the next three episodes, launching every Monday starting November 26.