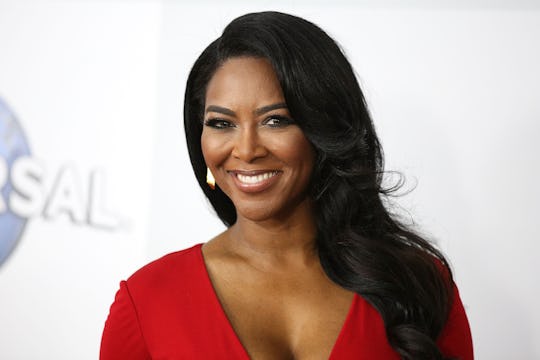 Imeh Akpanudosen/Getty Images Entertainment/Getty Images
Kenya Moore's 4D Ultrasound Of Her Unborn Baby Is Inspiring A Lot Of Love From Fans
Real Housewives of Atlanta alum Kenya Moore announced her first pregnancy at age 47 during the show's season 10 reunion taping in March. Although some people doubted Moore's news at first (yep, that happened), she has shared plenty of videos and pics since then in an effort to share her happiness with the world. And on Monday, Kenya Moore posted an incredible 4D ultrasound of her unborn child to Instagram. Spoiler alert: fans *love* this video for a number of heartwarming reasons.
Moore surprised her supporters in June 2017 when news broke that she married restaurateur, Marc Daly. Not only was the St. Lucia wedding hush-hush, but no one knew Moore was dating anybody at the time. But just when you thought Moore had run out of gotcha moments, she announced her first pregnancy during a taping of the RHOA reunion. "We will definitely be welcoming a boy or girl in late this year," Moore told Bravo producer Andy Cohen, according to Yahoo.
Although Moore has yet to confirm the sex of her baby, she has revealed plenty of content to keep fans' interest satiated until the birth. And Moore outdid herself on Monday when she shared an incredible 4D ultrasound of "#babydaly." Moore captioned the vid, according to Instagram:
I wanted to share this 4D ultrasound we had months ago. It's so incredible you can see #babydaly moving its little arms and legs in utero. Technology is so advanced it's mind boggling to me! We see a high risk specialist who has this type of imaging and are so blessed to have access to this modern day miracle.
Woah. How cool is it to see Moore's baby kick and move like that? Technology is an amazing thing, people.
Following Moore's post, countless fans shared emotional and congratulatory responses. It's not difficult to be thrilled for Moore when you consider how hard she worked to conceive.
"Can't wait until your baby is born. "You so deserve this Kenya, a commenter wrote, according to Instagram. "You're beautiful inside and out and I've always been #TeamKenya."
Another person chimed in: "That is amazing and I'm so happy for you!"
And one grandmother-to-be marveled at the magic of 4D ultrasounds, writing: "I'm very happy for you!!!! My daughter is due in Late Oct. with my 1st grand baby. It is so amazing to follow her pregnancy on the Internet & the 4 D imaging!!! I had a video of her in the womb flipping around in 1995 but no 4 D!!!!"
Other fans chimed in to share their own experiences with high-risk pregnancies — apparently a lot of people can relate to Moore's plight.
"I also had "high risk" pregnancies because of age. Had my babies at 40 and 43," a supporter shared. "So I emphasize with what you might be experiencing with more ultrasounds every month. I always thought of those appointments as blessed assurance."
"Oh, so happy for you! I was high risk with 3 of my babies & i am sure this helps ease the mind @thekenyamoore!" someone else added. "Many blessings & healthy mom & baby!"
"Yes I felt the same way when we saw baby girls image from inside the womb," another parent shared. "I was well over 38 when we found out and we to had a specialist due to "high risk". Any pregnancy 35 and beyond or any history of deficiencies on either side makes for a HIGH RISK."
Yep, it's quite evident why people love this video. Not only does it remind parents of their own pregnancies — including those that were high-risk — but it's also a nice reminder of the journey Moore had to endure to get to this point. Congratulations, momma.