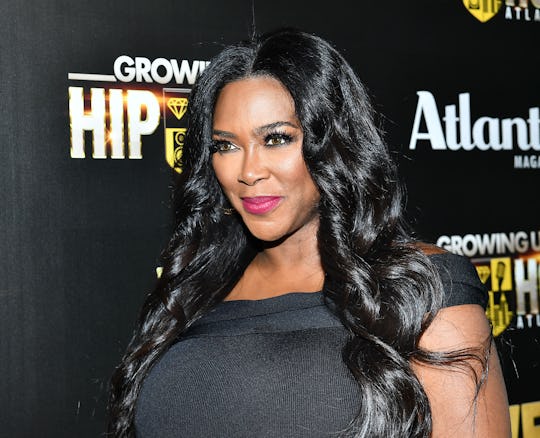 Paras Griffin/Getty Images Entertainment/Getty Images
Kenya Moore's Baby Shower Looked Like A Real Life Fairytale & These Photos Prove It
Baby showers are often and unique as the mom they're celebrating, and celebrity showers tend to take it up a notch — to say the least. Former Miss USA and Real Housewives of Atlanta star Kenya Moore's baby shower photos show that her special day was fit for a queen. Moore and her guests pulled out all the stops for her "Met Gala with a fairytale theme" celebration on Sunday.
Moore is expecting her first child with husband Marc Daly some time around this Thanksgiving, according to E! News. With about a month left of her pregnancy, it was high time that she get showered with love by those closest to her. The shower was held on Sunday from 4:30 p.m. to 8 p.m. at the Academy of Medicine in Atlanta, as Essence reported.
The mama-to-be and her guests posted photos to Instagram showing their getups. "Words cannot express the joy and happiness I feel in my heart," Moore captioned her post. "So overwhelming to have a room of people who came to celebrate the impending life of #babydaly." She was joined by many of her former costars and other friends, including Cynthia Bailey, Kandi Burruss and Porsha Williams, according to People.
More a costume party than a simple baby shower, the party invites included a royal decree that suggested that guests "use [their] imagination," and Moore and Daily "strongly encourage[d] creativity." Moore was dressed in a gold dress and crown, as well as a feathered cape while her hubby just wore a blue tuxedo, according to People. Before taking her seat at the dinner table, Moore thanked her guests, saying "Thank you for indulging me in dressing up and doing something different. I really appreciate you guys."
Along with Moore's photos, fellow Atlanta housewife Bailey also posted a few shots of the party. She shared a selfie with Moore and a snapshot of Moore and Daly, who she called "the beautiful royal couple."
TV cameras were absent from the baby shower and fans won't be able to watch the party on the Real Housewives of Atlanta, as Moore will not be returning for its 11th season, as BET International reported. But I have no doubt she will be as busy as ever fulfilling her dreams of becoming a mother.
When she learned of her coming addition to the family, she spoke with People about the joy that it brought her:
I've waited 47 years for this moment. I didn't really want to announce it too soon because I feel it's very early on in our pregnancy. But I have suffered so much in my life when it comes to wanting a family around me. So this is the day I've been waiting for my entire life. It's a dream come true.
While her pregnancy journey hasn't been filmed for TV, Moore has done a lot to keep her fans in the loop. She even held a Q and A on her Instagram Story, answering questions about her "miracle baby." Through her Story, Moore shared not only her Thanksgiving due date, but also the fact that she and Daly are waiting to find out the sex of the baby until she gives birth. "We want it to be a surprise," she wrote, according to Bravo. She also wrote about her favorite part of pregnancy, saying, "See babydaly [sic] move during ultrasounds and feeling the kicks and movement. It really is a miracle."
Along with bump photos, Moore posted a video to Instagram of her ultrasound in June, as E! News reported. The caption to the post explained her reason for posting such a personal moment:
My heart is overwhelmed by all the kindness and well wishes many of you have sent our family. I felt compelled to share this video of one of our early ultrasounds when I saw my baby's heart beating for the first time. I cried like a baby myself!
Moore's many fans will likely be missing her on the show this season, but she hasn't left the limelight entirely. If her royal baby shower is any indication, there is plenty left to celebrate.