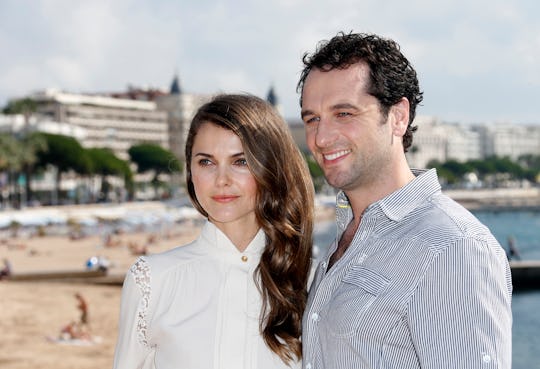 Valery Hache/AFP/Getty Images
Keri Russell Is Pregnant & Expecting A Baby With Boyfriend Matthew Rhys
In an exciting announcement on Wednesday, Us Weekly reported that actress Keri Russell was pregnant and expecting a baby with The Americans co-star Matthew Rhys. An anonymous source confirmed to the magazine that Russell, 39, was about four months along. The child is the couple's first, although Russell also has two children from a previous marriage to carpenter Shane Deary.
"It's so exciting for them," a source close to Rhys told the magazine. A second source revealed that the 41-year-old actor was "really in love" and felt that "they should have always been together."
The two have been together since April 2014 — of course, their real life relationship is nothing like their onscreen marriage. In FX's The Americans, Russell and Rhys play Russian spies posing as a married couple in Washington, D.C., eventually falling in love with one another despite their initially awkward pairing. In reality, the Russell and Rhys are much more compatible. "We have a similar sense of humor," Rhys told Closer Magazine in December. "We are silly and make each other laugh."
In February 2013, Russell told Parade that having children had changed her for the better. "You instantly become less selfish," she said, referring to her two children, son River and daughter Willa. "You can't be the biggest person in the world anymore—they are, [so] it really grounds you. Maybe I'm not ambitious enough [anymore], but I'm just as interested in my friends and my relationship with my family."
It's not clear yet whether Russell's pregnancy will be written into the FX show fourth season, which debuts in March; Certainly, it would make the story all the more interesting. Either way, the couple will have a lot of exciting things on their plates going forward, both personally and professionally.
"Remarkably, [season three] of The Americans ... achieved even greater acclaim than that of its first two seasons," FX programming president Nick Grad enthused in an interview with Time last March. "The series has cemented it status with critics as television's best current drama and arguably the best show on TV [...]."
So long as Russell gets plenty of time off to rest up and prepare for baby, it's safe to conclude that things from here on out will be smooth sailing.
Images: Valery Hache/AFP/Getty Images