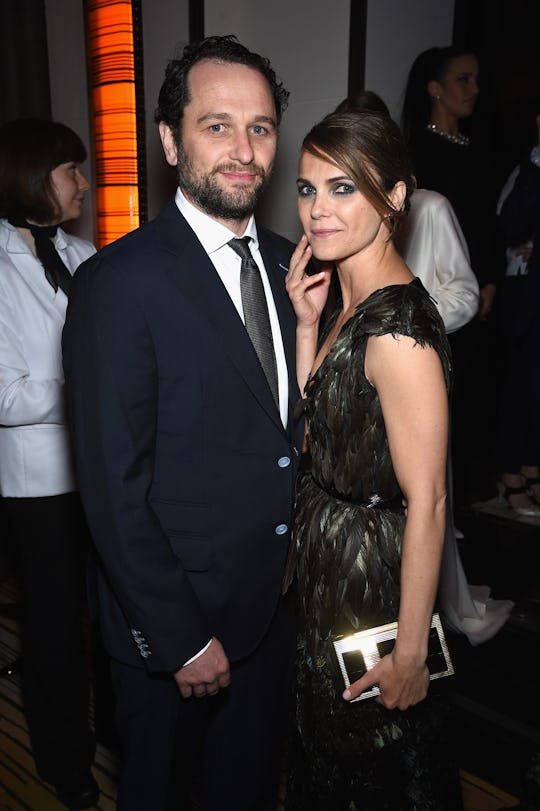 Dimitrios Kambouris/Getty Images Entertainment/Getty Images
Keri Russell & Matthew Rhys Had Their Baby, But Don't Expect Any Pics Anytime Soon
Joining a growing list of celeb couples who have chosen to keep their pregnancies and birth announcements pretty low key, Keri Russell and Matthew Rhys had their baby sometime last week, Us Weekly reports. This is Russell's third child. She already has a son, River, 8, and a daughter, Willa, 4, with her ex-husband Shane Deary, who she divorced in 2013. That's right around the time that Russell and Rhys struck up a romance on the set of their The Americans, where they play a married couple of two Russian spies. The couple was pretty hush-hush about their romance, too, maybe because they've gotten used to keeping their fake secrets on set but announced in January that they were expecting. According to insiders, Russell gave birth last week and they've been laying low with family and friends and snapping pics, but not sharing them with the public.
Oh, to be a fly in that familial group message. Because even though they seem to be enjoying the latest addition to their family, they haven't made an official announcement or shared any pictures with the media. Enter sad face here. It's totally understandable that stars want to keep their new children (and even pregnancies in some cases) totally secret from the gossip hounds. But, come on Felicity — we love you. Nothing? Fine.
The 39 year old actress wasn't totally shy about her pregnancy. She appeared at The Americans premiere this winter and showed off her baby bump, while going full Kardashian in a pair of 6-inch heels. But that's pretty much it. In fact, Rhys and Russell seem just like a very real, normal couple. Sources have told Us Weekly that Rhys, who is Welsh, "is really in love. They feel they should have always been together."
So obviously, their real life relationship is a little more stable and open than the one they act out on the small screen. In 2014, they were acting pretty coy about dating each other. They told The Los Angeles Times in a promotional interview for the show that actually Rhys was dating Noah Emmerich, another The Americans co-star. Real funny, guys.
They pretty much said that there was no way they were going to comment on their relationship. You'd think FX execs would be dying to milk this situation (I mean, how cute is it that you start dating your on-screen husband?), but they haven't. You sort of have to respect that.
The chemistry, though, is totally palpable. At the time, Russell said that Rhys "makes things so easy." "You feel you're in safe hands, and it's enjoyable to work like that because you're sort of like, let him do all the hard work," she said. Rhys said that his favorite thing about her was that she can burp like a man. Luckily he amended his answer and complimented her work ethic, too. "She brings a lot to the game. You can't sit back on your laurels," he said.
Even though the couple is pretty private about their personal life, they're definitely doing something right. And now, since we don't have any baby pics to swoon over, maybe it's time to catch up on the latest season instead.