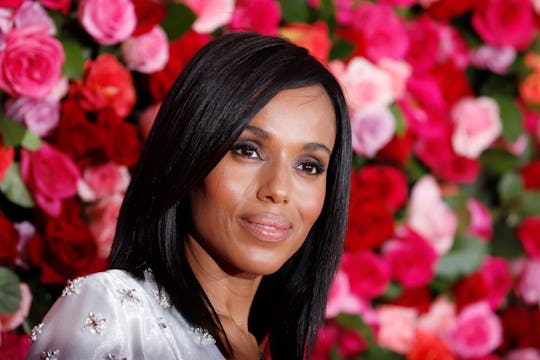 Jemal Countess/Getty Images Entertainment/Getty Images
Kerry Washington & Countless More Celebs Took Part In The #BelieveSurvivors Walkout
In the wake of sexual assault allegations from multiple women against Supreme Court nominee Brett Kavanaugh, politicians, celebrities, and everyday citizen alike have expressed their outrage about how the White House and Senate Republicans have responded. Dr. Christine Blasey Ford was the first woman to come forward with allegations. However, on Sunday a second woman, Deborah Ramirez, revealed Kavanaugh allegedly assaulted her in college. To show their continued support for these victims — as well as all victims of sexual assault — Kerry Washington and countless more celebs took part in the #BelieveSurvivors national walkout.
On Sunday, the organization Time's Up called for a national walkout on Monday, Sept. 24, E! Online reported. "Survivors must be heard. Wear black and join the national walkout on Monday, Sept. 24 at 1 pm ET/10 am PT in solidarity with Dr. Christine Blasey Ford," Time's Up tweeted. And so, those who stand with Dr. Ford walked out of their home, workplace, classroom — or wherever they might have been — across the nation. Among those who wore black and participated in the walkout were a slew of celebrities who also shared their support via social media. As HuffPost reported, this included famous faces like Kerry Washington, America Ferrera, Emmy Rossum, and more.
"Women must be heard," Kerry Washington tweeted on Monday. "Today I am wearing black in solidarity with Dr. Christine Blasey Ford. #BelieveSurvivors#TIMESUP#StopKavanaugh."
America Ferrera shared a photo on Instagram, along with the hashtags #believesurvivors#metoomvmt#sisterhood#timesup.
Film director and producer J.J. Abrams shared a photo of himself on Instagram pointing to a cue card that read, "#BelieveSurvivors#TimesUp"
Meanwhile, actress Emmy Rossum posted a video of the walkout in which she participated. Along with the clip, Rossume tweeted, "We had a full minute of silence on set to support Dr. Ford. #BelieveSurvivors#BelieveWomen#TimesUp."
Keep scrolling to see even more celebrities who participated in the walkout on Monday.
In case you've had a difficult time keeping up, Dr. Christine Blasey Ford has agreed to testify on Thursday in front of the Senate Judiciary Committee. The accusations Ford has brought against Kavanaugh — which came to light during an interview with The Washington Post on Sept. 16 — detailed how he and a male friend forced her into a bedroom during a house party in Maryland during the early 1980s. There, he allegedly shoved her onto a bed while covering her mouth, groped her over her clothes, and tried to take off her clothing, according to Time. "I thought he might inadvertently kill me," Ford said. "He was trying to attack me and remove my clothing."
However, Kavanaugh has repeatedly denied the sexual assault claims. In a letter to Senate Judiciary Committee Chairman Chuck Grassley, he wrote that he was anxious to "clear his name," according to USA Today. "Since the moment I first heard this allegation, I have categorically and unequivocally denied it," he wrote in the letter. "I remain committed to defending my integrity."
During a Fox News interview on Monday, Kavanaugh also denied the allegations by former Yale classmate Deborah Ramirez. "I never did any such thing," Kavanaugh said. "The other people alleged to be there don't recall any such thing. If such a thing had happened, it would have been the talk of campus."
According to The New Yorker, Ramirez alleges that Kavanaugh exposed his penis to her while at a college party while they were intoxicated. "I remember a penis being in front of my face," she said. "I knew that's not what I wanted, even in that state of mind ... Brett was laughing. I can still see his face, and his hips coming forward, like when you pull up your pants ... Somebody yelled down the hall, 'Brett Kavanaugh just put his penis in Debbie's face.'"
Whether or not their influence ultimately makes a different in Kavanaugh getting confirmed as a Supreme Court Justice, one thing's clear: Plenty of celebrities refuse to stand by idly while yet another victim claiming sexual assault it attacked, victim-blamed, and largely dismissed because of the amount of time that passed before she came forward. If only more people were willing to take seriously victims coming forward with allegations of sexual assault.