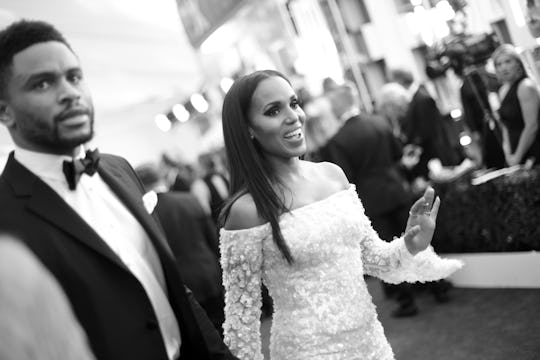 Charley Gallay/Getty Images Entertainment/Getty Images
Kerry Washington Didn't Work Out After Having Her Son
Kerry Washington is an outspoken advocate for women in Hollywood. But behind closed doors, Washington is incredibly private about her private life away from the red carpet. So, any information, news, and details are more welcomed from the Scandal star's life. After welcoming her second child in October, Washington is now revealing details from her pregnancy and recovery so many months later. In fact, on Friday People reported that Kerry Washington didn't work out after having her second baby — for one awesome reason that all pregnant moms should take note of.
Despite being the lead actress in a popular TV show, Washington did not feel rushed to shed the weight gained from her pregnancy and get back into her pre-pregnancy clothes. Instead, after the birth of son Caleb Kalechi with husband Nnamdi Asomugha in October, Washington took her time with her new baby boy, providing great advice to mothers who might feel pressured to lose that baby weight. Shockingly enough, Washington told People she waited up to six weeks to start losing the weight from having her second child. Explaining:
My doctor made me take my six weeks off and I did. It was really important to me to have that downtime and then start working out slowly, which I'm still doing, I am slowly getting back into it.
Washington further addressed rumors about her persistence (or serious lack thereof) to shed the baby weight telling People:
It was rumored somewhere that I was working out a week or two after he was born and it really upset me, actually. I never talk about rumors in the media, but I was really sad that somebody printed that because I felt like "Oh, that makes women feel like they have to start working out" — like, "Oh celebrities work out right away." And I was like, "No way!"
This revealing information can serve as an inspiration to all moms, everywhere. Just because they read something in the tabloids doesn't mean its true — not every woman should feel pressured to lose their baby weight, and should take those precious weeks with their child to be with their child, not at the gym. It's silly for society to expect women to bounce back to their original weight after having a child — according to The Daily Mail, a 2014 survey found that on average, it takes a mom 1 year and 7 months to fully bounce back to their pre-baby weight. To expect celebrity moms to accomplish what takes a full year for other moms to do in just six weeks is an absolutely ridiculous standard.
Kerry Washington's reasoning behind not working out after having her second baby is one that all mothers can find reassurance in. There is no need for moms to try to hurry back into their "skinny" jeans — instead, they can take their time with both their new child and workout routine, just like Washington did.