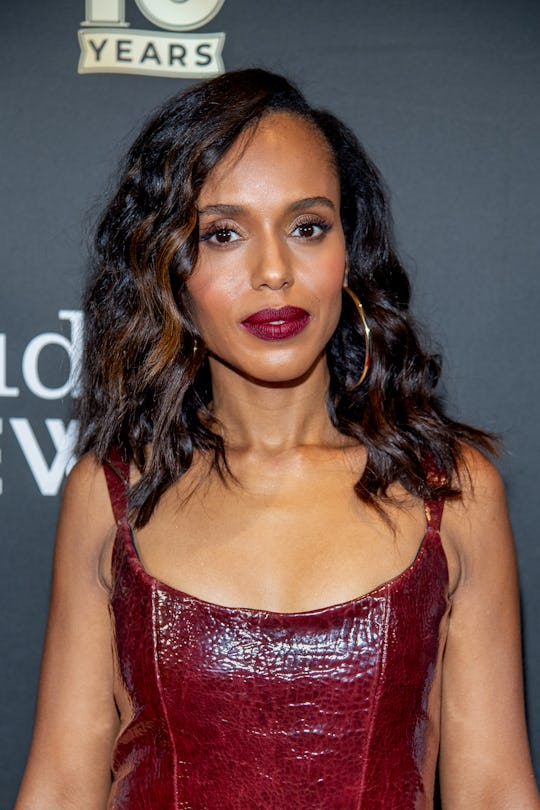 Roy Rochlin/Getty Images Entertainment/Getty Images
Kerry Washington Emphasizes That She's A Mom Of Three, Not Two
Anyone raised in a mixed or non-nuclear family will know that the challenges of parenting nonbiological children are different for everyone. Some people flow into their new familial structure swimmingly, while others spend many years at a cross trying to navigate the intricacies of non-traditional family structures. However, in a recent interview, Kerry Washington emphasized that she's a mom of three, not two, and it actually made a pretty important point about step-parenting as a whole.
In a recent interview with Craig Melvin on the TODAY show, Washington corrected the interviewer when he inquired about her "two" children. "I am a mom of three," she said distinctly. Washington is mother to son Caleb Kelechi, 2, and daughter Isabelle Amarachi, 4½, both of whom she shares with husband Nnamdi Asomugha, and she is also a step-parent to Asomugha's 12-year-old daughter from a previous relationship.
Though it's an easy mistake to make, Washington's assertion that she is a parent of three is so important for recognizing that families that consist of members beyond those whom are just biologically or genetically related is so crucial for validating their existence, and reminding the world that families are made from love, not from society's standards or expectations.
In the same interview, Washington went on to talk a little about how she parents, and that though she once maybe wanted to be more controlling, she realizes now that what's most important is educating, inspiring, and empowering your children to make positive, productive decisions on their own.
Washington said:
There was a time where you could control everything, kind of, about them in the very, very, very beginning... But parenting is a lot about letting go and how you do that with grace and ease and empower your kids to make the right choices.
"It is an adventure," she continued. "And obviously, doing that as a parent of an African-American kid has particular challenges."
This is not the first time Washington has shared some heartwarming sentiments about parenthood, as Parents noted. In an interview for Net-a-Porter's The Edit, on which she was featured on the cover, Washington shared: "I can be covered in spit-up on a conference call while I'm pumping, and that's OK, because this is my perfect... It may not be somebody else's, but this is mine."
She continued to explain that she largely looks to other moms in Hollywood for inspiration. Namely, her boss, Shonda Rhimes. "Shonda's got I-don't-know-how-many shows now, plus three kids, and she just figures it out," she said. "However busy I feel, Shonda feels busier, so I'm just going to rise to the occasion. She's been a real role model. Seeing the community she's created and the work ethic – I feel like there should be more of this in the world."
Despite feeling inspired to keep pursing both parenthood and her career as an actress, Washington has also spoken out about why she keeps her kids as much under the radar as she can.
"Earlier in my career I was much more super-sharey," Washington told Lena Dunham in a Q&A session for Marie Claire. "There were moments when I wanted to process things that were happening to me more privately, and I didn't have the space to do it, because once you let people in, they're in and you don't get to say, 'Oh, I want this for myself.'"
Be that as it is, it seems Washington is adjusting to the balance really well, and learning invaluable wisdom about life, love, parenting, work, and that "perfect" isn't always what you think it might be. If nothing else, Washington is a total inspiration for moms and step-moms everywhere.