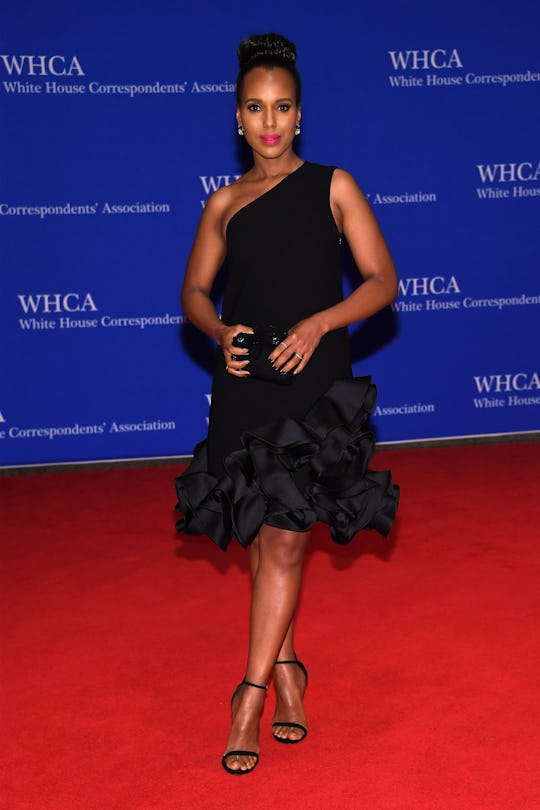 Larry Busacca/Getty Images Entertainment/Getty Images
Kerry Washington Is Pregnant With Her Second Child, & Fans Are Totally Psyched
Will Scandal need to hide Olivia Pope's baby bump again? According to multiple sources, Kerry Washington is pregnant with her second child, E! News reported. Washington already has a daughter, Isabelle, with husband Nnamdi Asomugha.
Washington welcomed her first baby, Isabelle Amarachi Asomugha, in April 2014, according to Us Weekly. Since Olivia Pope wasn't pregnant at the same time, Scandal's production team spent a season disguising Washington's baby bump; TV Guide compiled a list of their wackiest strategies, from placing Washington behind a lamp in the Oval Office to partially filling each frame with blurred objects in the foreground. Washington told The Hollywood Reporter that filming Scandal while pregnant was a real challenge:
All of last season was a challenge for me, on a few levels. For one thing, I was going through this amazing physical transition, this physical journey of having a baby, that my character was not going through. And I work very physically. What I do is often grounded in the body. That meant I had to figure out how to be this woman while my instrument was changing and evolving every day. It was like seeing the keys on a piano jump around on a daily basis. It was tough for me to even maintain Olivia's walk because of the changes.
Scandal's Season 5 finale is set to air May 12 at 9 p.m., according to ABC. The network renewed Scandal for a sixth season in March. It's unclear when they'll start filming, but producers may have to decide whether to incorporate Washington's changing appearance into the storyline this time around. Spoiler: Scandal made news this season when Pope got an abortion, according to Elle. Despite her character's controversial decision, Washington told Elle that starring as the crisis manager prepared her for motherhood:
Even though Olivia Pope has obviously made the decision that she is not a mom, playing her made me feel like I could be a mom. Because she knows there's always another way—there's always a way to fix it, there's always a way to solve it, to win. And I feel like playing her made me feel like, All right, I can do it. I will figure out how to juggle it all.
The actor is having a busy year. In addition to continuing her work on Scandal, Washington played Anita Hill in HBO's drama, Confirmation; the movie premiered on April 16. Despite her complicated professional schedule, she still seems to put her family at the center of her life; in an interview with Entertainment Tonight, Washington said she brings her daughter on set whenever she can. She also said that motherhood has definitely changed her:
The thing that has changed the most about me since I became a mom is that my heart keeps getting bigger and bigger.
With baby two on the way, it definitely seems as though her heart will have plenty of opportunities to keep growing.