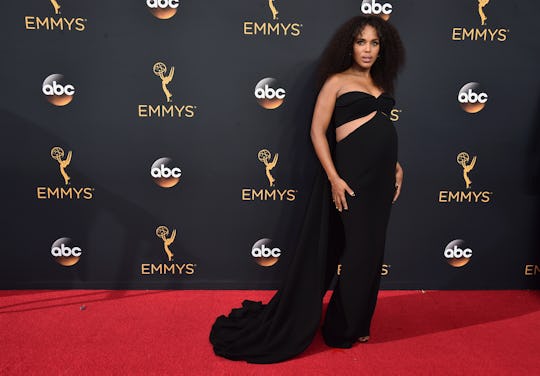 Alberto E. Rodriguez/Getty Images Entertainment/Getty Images
Kerry Washington & Nnamdi Asomugha Welcome A Son, & His Name Is So Cool
E! News reports that Kerry Washington and Nnamdi Asomygha welcomed their second child, a son named Caleb Kelechi Asomugha, on Oct. 5. No other details have been reported, and the Scandal star is known for keeping her private life private. Washington secretly married NFL star Asomygha back in 2013 and the couple already have a daughter, Isabelle Amarachi Asomugha, who was born in April 2014. They keep her out of the public eye as much as possible. Commenting on her privacy, Washington said at a recent SXSW panel, according to E! Online:
If I don't talk about my personal life, it means I don't talk about my personal life. That means not only did I not tell you when I was getting married, it also means if somebody has rumors about what's going on in my marriage, I don't refute them, because I don't talk about my personal life.
She also mentioned that, although she has accounts on social media, like Twitter and Instagram, she won't post pictures of her children — even though she's been tempted to! "I have these itchy fingers where I want to post a photo of my daughter, so instead I send it to my shrink or my mother," she told the panel at SXSW, noting that she understands why social media can be useful for celebrities, especially when it comes to firing back against the media.
She said that, in terms of keeping her toddler, Isabelle, off social media, it's a privacy thing as much as it is about respecting her daughter's future: "I want her to be able to make those decisions in her time," she said at SXSW.
She'll probably have similar sentiments about son, Caleb. After the birth of her first child she gushed to the LA Times about motherhood: "I just feel really blessed that I'm kind of living extraordinary dreams come true in my work life and in my personal life."
Washington, 39, is currently starring in ABC's smash hit Scandal as the indomitable Olivia Pope. But, as she told Vanity Fair back in 2013, the actress isn't one in the same with her character — even though they're both super smart, cool, and powerful ladies in their own right.
Of playing Olivia, Washington told Vanity Fair, "I have to learn things to be her all the time," but Scandal's creator Shonda Rhimes (who also created Grey's Anatomy) immediately clicked with Washington when she auditioned.
The current season of the show was cut down to accommodate Washington's pregnancy, so fans will no doubt celebrate not just the birth of her son but hopefully the return of Washington and Olivia Pope to their screens next year.