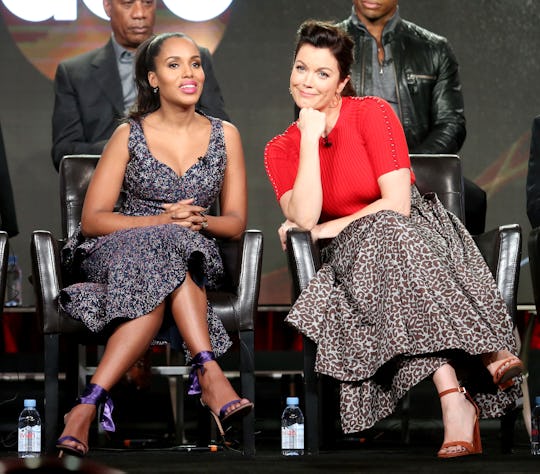 Frederick M. Brown/Getty Images Entertainment/Getty Images
Kerry Washington Waited To Learn Baby's Gender
The decision for a mom-to-be to know the gender of their baby before its birth is becoming more and more uncertain. As much as some people see a gender-reveal as being a no-brainer, trends are now veering on the "not-knowing" side of things. Now, the flawless queen of ABC's Scandal is making the case for being surprised: During her interview on The Ellen Show this week, Kerry Washington revealed her son's gender was a surprise, and when she explained her reasoning, it made total sense.
Washington gave birth to her second child, Caleb Kelechi in October of last year, and while her pregnancy put a pause on Scandal for everyone, we can't be too mad at her when we see how happy she is.
Washington, who has remained very private about her personal life, explained her choice in not having Caleb's gender revealed, telling host Ellen Degeneres, "I hoped it was human."
And with that, we can wholeheartedly agree. Washington's other child, two-year old Isabelle, and Caleb are sure to grow up with as much love and warmth as any kid could want, and isn't that all that matters?
What's interesting is that Washington isn't necessarily alone: The number of parents who are choosing to forgo gender reveals before their child's birth is rising. According to FiveThirtyEight, a 2001 survey showed that 58 percent of American adults wanted to, or already had, found out the gender of their child during the pregnancy. However, a more recent Gallup study from 2007 showed that only 41 percent of American adults wanted a big gender reveal prior to birth.
And while the rise in popularity of gender reveal parties may cause you to think that every expectant parent is just dying to find out their child's sex as early as possible, this is mostly only true for younger parents. As FiveThirtyEight reports, parents aged 22 and under overwhelmingly don't want to be surprised, with 98 percent responding they wanted to know the sex before birth. Those numbers sharply decline after the age of 22, however, with only 57 percent of parents aged 22-35 responding yes, and 55 percent of 36-40 year olds wanting to know their child's gender prior to birth. (Interestingly enough, the percentage of parents wanting to know their child's gender rises again for parents over the age of 40, at 68 percent.) Washington lands in the latter group, at 39. So in the grand scheme of things, it's really not that surprising that she declined to find out early on.
Whatever the case, it seems Washington and her loved ones would have been okay either way — and in the end, all that matters is that the little tot was happy and healthy.