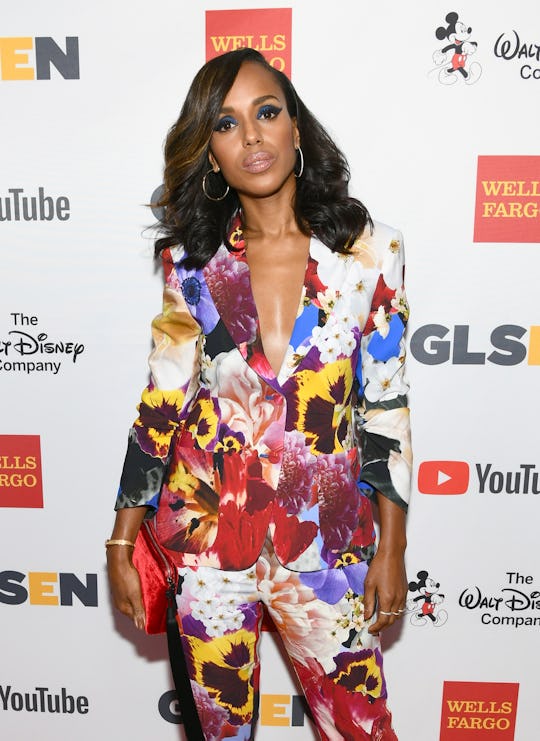 Emma McIntyre/Getty Images Entertainment/Getty Images
Kerry Washington Got Real About How She Feels Empowered, & It's A Huge Reminder For Moms
Kerry Washington understands that sometimes, the most powerful thing you can do as a parent is make sure you're taking care of yourself. The actress and brand ambassador opened up recently about how she strikes A balance between taking care of her own needs as well as those of her children, Isabelle Amarachi, 4, and Caleb Kelechi, 18 months. In fact, Kerry Washington says this is when she feels most empowered, and honestly, it's an important reminder to all moms.
She told People, "I feel empowered when I'm making time to take care of myself," though she acknowledged that it can be a challenge to do so at times. "I think of it as kind of like my weekly scavenger hunt, figuring out where's the me-time. I put it on my list of priorities."
Many people believe that self-care is an important part of parenting, because you can't run on an empty tank, so to say. Taking time to be mindful about your own health and wellness can be a radical act for mothers whose health and wellbeing (and existence) is treated as secondary to the needs of their children. Though it's undoubtedly difficult at times for moms to make room for perceived luxuries in their schedule, this reminder is still important: looking after your own wellbeing is a necessity, and nothing less.
When E! News reported exclusively that Kerry was pregnant for the first time back in 2014, a source told the outlet that it wasn't a surprise to those close to her, as it was something she had wanted her entire life. "I will say I feel really, really blessed," Kerry told the Los Angeles Times after she gave birth. "I just feel really blessed that I'm kind of living extraordinary dreams come true in my work life and in my personal life."
However, Kerry has also been outspoken about the fact that her career has not deterred her from pursuing marriage and motherhood. In fact, she actually attributes finding the courage to have kids to playing her Scandal character, Olivia Pope. She told IOL.co:
I don't know if I would have had kids at this point in my life if she didn't make me feel like anything is possible. I feel like she's given me a lot of courage. So I'll keep that courage. I'm going to have to say bye to the Prada purses but not goodbye to the courage and the courage is more important.
Of course, this comment may be related to the fact that Olivia had an abortion on the show, which elicited controversy for how nonchalantly Kerry played it. (It was a groundbreaking moment in entertainment to see abortion normalized in such a way.) Kerry continued: "Even though Olivia Pope has obviously made the decision that she is not a mom, playing her made me feel like I could be a mom. Because she knows there's always another way—there's always a way to fix it, there's always a way to solve it, to win. And I feel like playing her made me feel like, All right, I can do it. I will figure out how to juggle it all."
Juggle it all she does, even if she needs help along the way. In an interview with Extra, Kerry joked that the best role she has ever played is a "well-rested woman." In an interview with AOL, she also shared that so much of parenting is just being willing to ask questions and learn. "Literally, it's asking, 'What did you do about sleep training? Is that hotel kid-friendly?' And pick up really tangible tips, like literally, what time do you fly?" she said.
Overall, it's clear that Kerry is as much in love with parenting as she is with life, and as she told Entertainment Tonight, her "heart just keeps getting bigger and bigger," both from loving her two children, and from loving herself.
Check out Romper's new video series, Bearing The Motherload, where disagreeing parents from different sides of an issue sit down with a mediator and talk about how to support (and not judge) each other's parenting perspectives. New episodes air Mondays on Facebook.