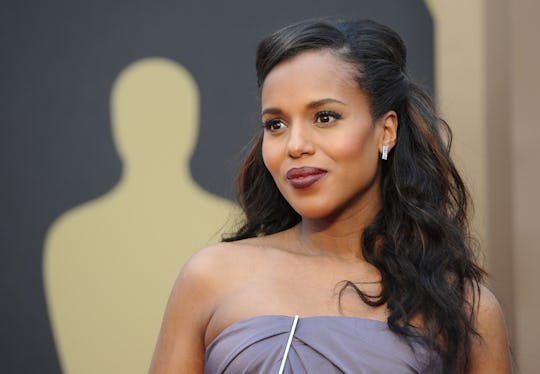 ROBYN BECK/AFP/Getty Images
Kerry Washington Says Trump's Child Care Policy Is "Ridiculous" & She's Completely Right
This week Donald Trump's campaign has been roundly criticized after it unveiled a child care and maternity plan that would offer new mothers six weeks of paid maternity leave, tax deductions for stay-at-home parents, and dependent care savings account for families. But, there are many perceived limitations and questionable aspects about the revised tax plan, which have not gone unnoticed. In a recent interview to talk about some of the inconsistencies with the new policy, Scandal star and political activist Kerry Washington said Trump's child care policy is "ridiculous" and her comments make complete sense.
"I think, you know I've always been a fairly political person, and mostly not because I'm in the public eye, but because I'm an American and I think we have a right and a responsibility to participate in our democracy," the pregnant actress said in an interview on Real Time with Bill Maher on Friday. "So, having a child might open up my mind to the issues like this ridiculous maternity leave that Trump talked about just recently."
"There's been a lot of talk about it being insulting to women, but I actually think it's insulting to families, and to workers, because there's no paternity leave, there's no family leave," Washington told Maher when asked why she thinks the plan is absurd.
Washington — who is expecting her second child with husband Nnamdi Asomugha — later praised Democratic presidential candidate Hillary Clinton for handling the child care issue as an "economic policy" rather than a "women's policy."
"We understand in this country that if we're able to take care of each other we do better as a nation," the Confirmation star continued in the same interview. "I choose that candidate over the guy who brags about having never changed a diaper. He's literally bragged about never having changed a diaper. That's crazy."
The Trump campaign, including Ivanka Trump — the Republican nominee's 34-year-old daughter, who is an executive at the Trump organization and a mother of three — helped announce the plan earlier this week with her father on stage at a rally in Pennsylvania and detailed the specifics of the new policy in an op-ed for the Wall Street Journal.
The following day, the could be first daughter cut short an interview with Cosmopolitan and criticized the interviewer for having "a lot of negativity" in her questions when she was asked about some of Trump's past comments about childcare and maternity leave.
In the same interview, Washington urged voters not to be "distracted by these very smart, very articulate, beautiful women who work on Trump campaign, who are a lot smarter than the candidate." Namely Ivanka Trump and Trump's campaign manager Kellyanne Conway.
She continued, "We need to be not swayed by them, because they will not have their finger on the button — he will."
You can watch the full interview here:
Many media commentators and political analysts have pointed out inconsistencies with the billionaire's child care policy, as the Trump campaign claims that the plan is focused on working parents, while experts say it's designed for the rich.
"I think if we really look at policy, voting for Trump is voting against our best interests as Americans, as workers, as people of color, as women," Washington concluded the interview. "Voting for Trump is voting against ourselves."