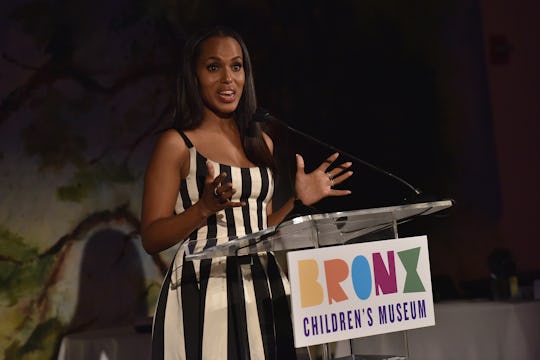 Bryan Bedder/Getty Images Entertainment/Getty Images
Kerry Washington Talks About Pumping While Working
Scandal star Kerry Washington only welcomed her second child into the world late last year, and caring for two kids under the age of four while simultaneously ruling Hollywood has certainly kept the actress busy. Raising two tiny human beings, being the lead actress in one of ABC's most popular shows, and running her own production company has led Washington to become a pro at balancing her commitments both on set and at home. In a recent interview, Kerry Washington talked about pumping while working and called the balance her idea of perfect.
"I can be covered in spit-up on a conference call while I'm pumping and that's okay, because this is my perfect," Washington told The Edit. "It may not be somebody else's, but this is mine."
Washington and her husband of three years, football player Nnamdi Asomugha, have two children: three-year-old Isabelle and 7-month-old Caleb. Their youngest was born only a few months after Washington's new Simpson Street production company signed a two-year deal with ABC Studios, and the actress has ambitious plans for the company. With Simpson Street, Washington aims to highlight the voices of people usually underrepresented in Hollywood, and she plans to be involved in shaping all of the stories Simpson Street produces.
"I wake up, I have a house full of kids and pets, a new production company, I'm number one on the call sheet, and I think: 'I will not go down. There's always another way,'" Washington told The Edit. "There's always a solution."
Washington said she draws inspiration from Shonda Rhimes, her mentor and Scandal showrunner. She once hinted that Rhimes knew about her pregnancy before her parents did, and in a past interview with Essence, Washington called Rhimes "the best boss ever." She told Essence that Rhimes was an example "as a mom [and] as an employer," and she had further praise for Rhimes' work-life balance during her interview with The Edit.
"Shonda's got I-don't-know-how-many shows now, plus three kids, and she just figures it out," Washington told The Edit. "However busy I feel, Shonda feels busier, so I'm just going to rise to the occasion. She's been a real role model."
We all have our own definitions of "perfect," and it seems like Washington has absolutely found hers. Being exceptionally busy can be overwhelming at times, but having a life jam-packed with the things you love is great, so cheers to Washington for hitting her stride — spit-up on her shirt and all.