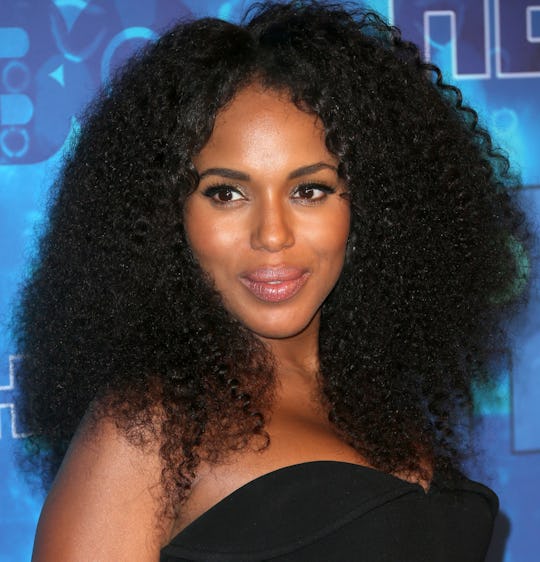 Frederick M. Brown/Getty Images Entertainment/Getty Images
Kerry Washington Tweets About The Shooting Of Deborah Danner, & Her "Rant" Was Necessary
Actress Kerry Washington may have recently become a mother for the second time, after giving birth to her son Caleb earlier this month, but on Saturday afternoon, she took to social media with something far more somber on her mind. According to People, Kerry Washington tweeted an emotional Twitter "rant" to her followers in which she expressed sadness and grief over the police shooting death of Deborah Danner, a black woman from the Bronx who suffered from schizophrenia. In the series of tweets, Washington, who was raised in the Bronx, spoke about how the loss of Danner "rattled [her] core," and said that her "heart aches," to "#sayhername."
According to the New York Daily News, a neighbor who lived in Danner's apartment building called police Tuesday to report that the 66-year-old woman was acting "in an irrational manner." When police arrived, they reportedly found Danner holding a pair of scissors and threatening police, but one of the officers, Sgt. Hugh Barry was able to convince Danner to drop them. Shortly after though, Danner allegedly grabbed a baseball bat and "lunged" at him, at which point Barry, an eight-year veteran of the New York Police Department, shot her twice in the torso, according to Patrol Borough Bronx commanding officer Assistant Chief Larry Nikunen. She died in hospital from her injuries. The NYPD did not immediately respond to Romper's request for comment.
Both NYPD Commissioner James O'Neill and New York Mayor Bill de Blasio have condemned Danner's death as unnecessary and a failure on the part of the officers to properly respond to the call. According to the New York Daily News, de Blasio called the shooting "tragic and ... unacceptable," and said, "this should never have happened. It's as simple as that. Deborah Danner should be alive right now." O'Neill agreed, explaining that police policy is to "isolate and contain," admitting "what's clear in this instance is that we failed."
Barry had reportedly been trained in how to handle incidents involving people suffering from mental illness, and the New York Daily News noted that part of that protocol is to wait for Emergency Service Unit officers and to use a Taser if needed, which Barry reportedly carried. A source told the newspaper that the situation "was going right — and then it went bad," referring to the fact that Barry was successful in his attempt to get Danner to drop the scissors, and that she initially reportedly agreed to let him lead her out into the hall where paramedics were waiting. But Danner grabbed the baseball bat suddenly, and officials have said that's when Barry responded with deadly force. As the source explained to the New York Daily News, "he did right and then he did wrong. Now he has to answer why he did what he did. In a way, I feel for the sergeant, but I'm also thinking this didn't have to happen."
Washington's sadness and anger was shared with many others on social media following Danner's death, who argued that there was no reason for Danner to be killed, and that it was yet another example of police using excessive and unnecessary force against black people. Many also drew comparisons between Danner's death, and that of Eleanor Bumpus, a mentally ill black woman who was killed by police in New York in 1984.
Perhaps most tragically though, according to Mic, is that being shot and killed by police because of her mental illness was something Danner herself had specifically feared. In a poignant, six-page essay written in 2012, Danner wrote about her experience living with schizophrenia since she was 30 years old. She described her illness as "not only a curse, but oftentimes a nightmare," and wrote about how hard she worked to try and fight her illness, and to remain vigilant of any symptoms that could be signaling that an episode might be on the horizon. She wrote that she had been hospitalized more than 10 times because of her illness, and worried often about what the consequences of her illness would be:
What if my medication fails me? I ask myself, will I know if it does?..Will the illness overpower its effectiveness?..When?...Where?...Will I be aware enough to notice if such an incident occurs?..Will anyone notice?
Danner also wrote eloquently about mental illness stigma, saying that, "generally, those who don't suffer believe the worst of those of us who do," and that those with mental illness are "treated with suspicion as liars who can't be trusted to control [themselves]." She then discussed the "all too frequent news stories about the mentally ill who come up against law enforcement instead of mental health professionals and end up dead," and called for change, citing the Bumpurs shooting (which she referred to the "Gompers incident"):
Many years ago, here in NY, a very large woman named Gompers was killed by police by shotgun because she was perceived as a 'threat to the safety' of several grown men who were also police officers. They used deadly force to subdue her because they were not trained sufficiently in how to engage the mentally ill in crisis. This was not an isolated incident.
In light of Danner's own shooting death, her words are a chilling reminder of the lack of support and understanding for those suffering from severe mental illness. To read Danner's essay is to understand not only how much she suffered, but also how hard she fought to stay well and live a full, safe, and happy life, as well as how intimately she understood that, if she were to become unwell at any point, accessing real help would be difficult, if not impossible. And perhaps even more heartbreaking than the details and circumstances of her death is the knowledge that she herself was aware that it might happen that way, as much as she knew that she didn't deserve it, and that it would be a reflection of a broken system that still doesn't really know how to help people like her.
As Washington noted in her tweets, Danner's death is a reminder of all the other black individuals who have lost their lives as a result of police shootings, and yet another reminder of why the Black Lives Matter movement exists and cannot be overlooked. But it's also a reminder of the reality that those who live with mental illness face on a regular basis — that no matter how hard you try to manage your illness, to stay on top of it, to keep yourself and others safe, the lack of understanding about conditions like schizophrenia and how best to deal with those who are suffering means that, in times of crisis, help might not be available. And for many people just like Danner, it could end up costing them their lives.