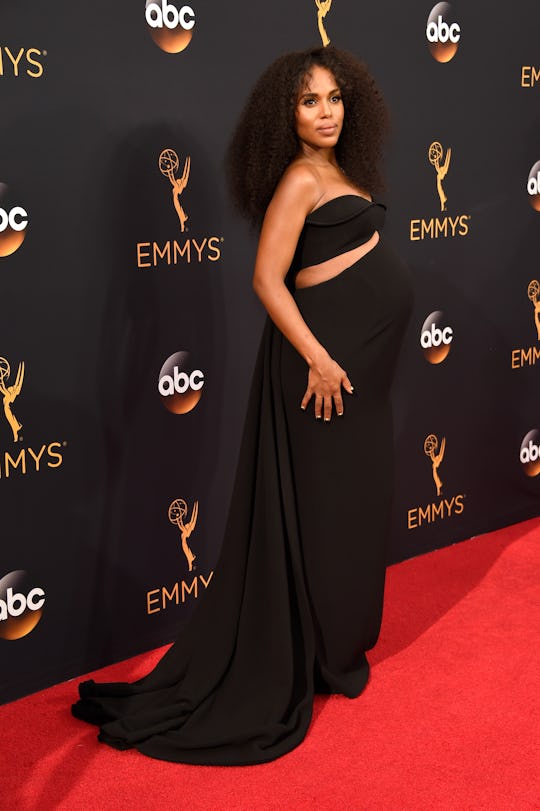 Kevin Mazur/WireImage/Getty Images
Kerry Washington's 2016 Emmys Dress Is Everyone's #MaternityGoals
It's no surprise that Kerry Washington looks stunning regardless of what she's wearing or where she's wearing it to, so maternity wear definitely wasn't going to keep her down when it came time to choose an award show gown. Kerry Washington's 2016 Emmys dress is everyone's #maternitygoals, for sure, and further proof that Washington is #momgoals, in general. In a sleek black strapless gown with cutouts along the waist (and a seriously fabulous cape-train combo trailing behind her), Washington once again showed off her flair for style.
Washington has become someone viewers and fans have learned to look out for on the red carpet; always looking polished and put together at whatever event she graces with her presence. Dealing with the scrutiny of the red carpet can be difficult enough for an actress, but dealing with the inevitable judgment while pregnant can be another level of annoying (I'm assuming). No one wants to be uncomfortable when they're pregnant, especially on national television, but Washington looked pretty much perfect, honoring her personal style while still looking comfortable in her own skin and proud of her growing baby bump. It goes without saying that a lot of work goes into prep for the Emmys, but she looked effortless (somehow) anyway, as if she was channeling her inner Bey and simply "woke up like this."
In addition to killing it on the red carpet with her great taste in casually dramatic gowns, Washington is nominated for an Emmy for Outstanding Lead Actress in a Limited Series or Movie after playing Anita Hill in HBO's Confirmation, a role that allowed her to really show off her dramatic range. Though she wasn't nominated for it, Washington also turns in fantastic performances on a weekly basis on the hit television show Scandal – while looking just as stylish as she does on the Emmy red carpet.
Washington is currently expecting her second child with her NFL player husband Nnamdi Asomugha; the couple welcomed a daughter, Isabelle, in 2014. While she has to disguise her pregnancy on Scandal (because her character isn't pregnant), she doesn't have to do so in real life,a nd proudly rocks the best maternity gown in sight. If Twitter had anything to say about it, she did just that; there was no shortage of prasie over her look, which was flawless from head to toe. Here are just a few (of the many) Twitter reactions to Washington's red carpet look.
The best part of Washington's award show style was that she looked so happy and confident and, well, herself, while she was wearing it. The dress doesn't really matter at the end of the day – it's all about how an actress feels in it.