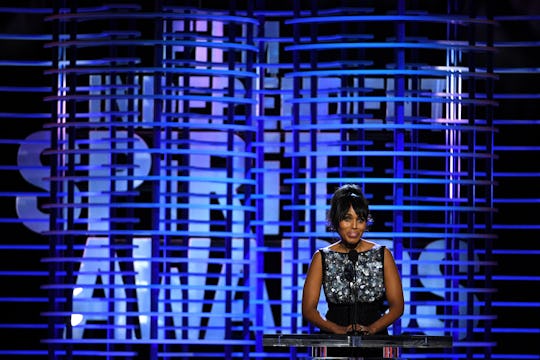 Kevork Djansezian/Getty Images Entertainment/Getty Images
Kerry Washington's Motherhood Quotes Are Empowering
Kerry Washington slays it in the role of Olivia Pope, the D.C. crisis manager on ABC's Scandal — and she's also slaying it with a role just as big, if not bigger: Mom. The 40-year-old actress and progressive activist is mom to two kids with her former NFL cornerback husband Nnamdi Asomugha. Washington has an absolutely radiant personality that inspires others, so it's no surprise that her approach to motherhood is equally as inspiring. Not only do Kerry Washington's quotes on motherhood reflect her progressive values, they are incredibly empowering to moms everywhere.
Washington gave birth to her first child, daughter Isabelle Amarachi, in April 2014; her third birthday is just a couple of weeks away on the 21st. In October, Washington welcomed her second child, son Caleb Kelechi. After the birth of her daughter, she opened up to The Los Angeles Times about how awesome it was being a new mom: "I just feel really blessed that I'm kind of living extraordinary dreams come true in my work life and in my personal life."
For Washington, it really is a bit a of a dream come true: The actress has been nominated twice for a Golden Globe, four times for an Emmy, and three times for the Screen Actors Guild Awards. Even with an obviously full schedule of work and activism, Washington still manages to take motherhood in stride.