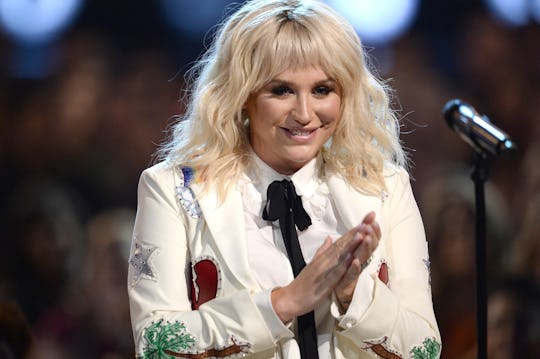 Kevin Winter/Getty Images Entertainment/Getty Images
Kesha Drops Lawsuit Against Dr. Luke In Order To Move Forward With Music Career
After a highly publicized and disturbing two year legal battle with her producer, Kesha has decided to move on and more forward with her music career. On Monday, Kesha dropped her sexual assault lawsuit against Dr. Luke in California. Dozens of stars came forward to support to the "Tik Tok" singer's case, which alleged that the producer sexually, physically, verbally, and, emotionally abused her.
For nearly four years, the pop star had been fighting her record company with the lawsuit and hadn't been able to get out of an exclusive multi-record deal with Dr. Luke. Despite the complications, Kesha remained legally bound to the Kemosabe label, which operates under Sony Music.
According to BuzzFeed News, however, over the past month, "Kesha's legal team [said] she has submitted 28 new songs, recorded at her own expense, in order to fulfill her contractual obligations." It was a move that ultimately would allow her to focus on restarting her music career under the control of other producers.
"Kesha is focused on getting back to work and has delivered 28 new songs to the record label," the pop star's counsel Daniel Petrocelli told BuzzFeed News in a statement on Monday. "We have conveyed to Sony Music and the label Kesha's strong desire to release the single and an album as soon as possible."
While Kesha has dropped the lawsuit in California, according to Rolling Stone, she plans to continue to pursue the case in New York, where a judge, back in April of this year, dismissed nearly all of the claims that Dr. Luke allegedly drugged, raped, and abused Kesha during her career. In 2014, Kesha filed a lawsuit that claimed Dr. Luke had reportedly "made repeated sexual advances toward her."
"She claims he would force her to use drugs and alcohol to remove her defenses," People reported recently.
Kesha's case in California, which had been on hold since June 2015, made similar claims that she will reportedly still push through in New York.
According to Rolling Stone, Christine Lepera, an attorney for Dr. Luke, said in a statement that Kesha voluntarily dropped her claims in California "because she has no chance of winning them." The statement continued:
Earlier this year, she lost her meritless counterclaims against Dr. Luke in the New York Action. Recently, the California Court invited Dr. Luke and the other defendants to move to dismiss Kesha's claims in that action. Kesha never should have brought her false and meritless claims against Dr. Luke in any court. Dr. Luke's defamation and other claims against Kesha are still proceeding.
Earlier this year, Kesha's mother, Rosemary Patricia "Pebe" Sebert, told Billboard that her daughter's fight against Dr. Luke nearly "destroyed" their family.
"She was a prisoner," Sebert told Billboard in March. "It was like someone who beats you every day and hangs you from a chain and then comes in and gives you a piece of bread. Luke would say, 'You look nice today,'and send [Kesha] into ­hysterics of happiness because she was programmed to expect nothing but abuse."
Kesha's lawsuit garnered support from female fans and several high profile female celebrities, including Lady Gaga, Ariana Grande, and Taylor Swift, who donated $250,000 in monetary support. Kesha tweeted on Monday night, soon after news broke: "My fight continues. I need to get my music out. I am continuing to fight for my rights in New York. Thank you for all your support."