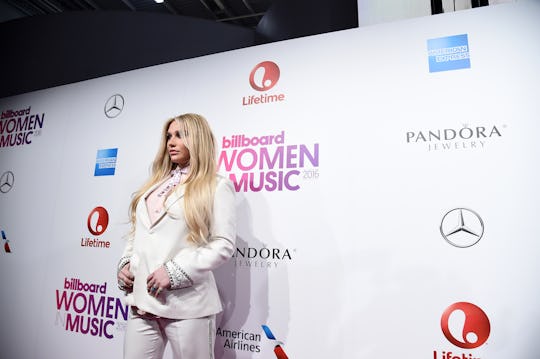 Ilya S. Savenok/Getty Images Entertainment/Getty Images
Kesha Says Internet Trolls Fueled Her Eating Disorder
One of the best things about the internet is that it has given the world a new, beautiful platform on which to express itself, in the form of personal essays. Some of the most widely-circulated essays come from celebrities who have decided to open up, and tell the world who they really are. From Channing Tatum and Taylor Swift; Tina Fey and Steve Martin; to Meghan Markle, Mila Kunis, Solange, and Amber Tamblyn, the essay is seeing a resurgence. And it isn't showing any signs of stopping. In a personal essay written for Teen Vogue, singer Kesha said body shaming on the internet fueled her eating disorder, and her powerful words speak volumes.
Kesha has been through her own fair share of trials and tribulations, from undergoing rehab to treat her eating disorder, to a long-embroiled legal battle with her former producer, Dr. Luke (Kesha accused him of sexual assault, which he vehemently denied, and no criminal charges were ever filed). But now, the singer and songwriter has chosen to speak out about the incessant online bullies who helped push her eating disorder.
Obviously, all eating disorders are serious mental health issues, and there is nothing easy about dealing with them. Kesha's new essay shows just how important it is to love yourself, at every stage of life.
In the essay, Kesha describes just how ruthless anonymous online trolls can be, and the impact they have on those they choose to attack. "When I think about the kind of bullying I dealt with as a child and teen, it seems almost quaint compared with what goes on today," she wrote. "The amount of body-shaming and baseless slut-shaming online makes me sick."
And unfortunately, she's right. According to NoBullying.com, "52 percent of young people report being cyber bullied." And Kesha's essay explains just how brutal cyber bullying can be. "I know from personal experience how comments can mess up somebody's self-confidence and sense of self-worth," she wrote. "I have felt so unlovable after reading cruel words written by strangers who don't know a thing about me."
Because of the barrage of comments and abuse Kesha was receiving, she started to doubt her own self worth.
It became a vicious cycle: When I compared myself to others, I would read more mean comments, which only fed my anxiety and depression. Seeing paparazzi photos of myself and the accompanying catty commentary fueled my eating disorder. The sick irony was that when I was at some of the lowest points in my life, I kept hearing how much better I looked. I knew I was destroying my body with my eating disorder, but the message I was getting was that I was doing great.
Kesha makes an important point, and one that is often ignored regarding eating disorders. Telling someone how "skinny" they look, or commenting how amazing their weight loss is could actually be fueling that person's eating disorder. Someone's appearance is not the sum of who they are, and judging that part of them will never serve a purpose great enough to justify the negative impact it might have.
Luckily, these days, Kesha seems to be doing better and the fact that she's writing about her experiences openly is promising as well. It's just a shame she ever had to go through any of the things in her essay in the first place.
If you or someone you know is suffering with an eating disorder, you can contact the National Eating Disorders Association at (800) 931-2237, text "NEDA" to 741741, or click here.