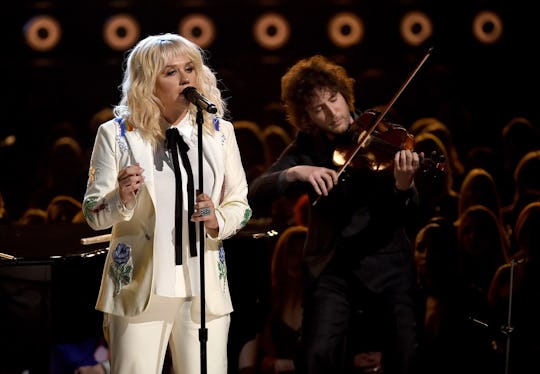 Kevin Winter/Getty
Kesha's Billboard Music Awards Performance Was A Beautiful Moment
Kesha just reminded fans of her seriously beautiful singing voice. Kesha's Billboard Music Awards performance was a beautiful tribute to Bob Dylan, but the stripped-down style let her vocals shine. The singer performed "It Ain't Me Babe" with Ben Folds accompanying her on the the piano.
Earlier this week, fans weren't even sure they'd get to see Kesha onstage. According to Billboard's site, Kemosabe Records initially signed off on Kesha's BBMA performance before learning of a potential plan to bring up her legal battle with Dr. Luke while in the spotlight, according to Billboard. Kesha sued Dr. Luke in 2014, accusing him of abuse; Slate reported that Dr. Luke denied any wrongdoing and pursued a countersuit. In February, a judge refused to let Kesha out of a contract with Dr. Luke's label, Kemosabe Records, prompting international outrage. Since the label still has control over her career, they rescinded permission for her to perform at the BBMAs, and Dick Clark Productions released a statement Tuesday indicating Kesha wouldn't be singing during the show, according to Billboard. Kesha's Bob Dylan tribute wasn't meant to make a statement, the singer reported on Instagram; according to CNN, Kesha wrote that she hadn't planned to mention Dr. Luke:
I was very excited to perform a tribute to Bob Dylan by singing a cover of "It ain't me, babe" at the Billboard awards this year. I'm very sad and sorry to say I won't be allowed to do this. I just wanted to make very clear that this performance was about me honoring one of my favorite songwriters of all time and has never had anything at all to do with Dr. Luke. I was never going to use a picture of him, speak of him or allude to my legal situation in any way. I simply wanted to sing a song I love to honor an artist I have always looked up to. thank u all for the continued support.
Apparently, the singer reassured Kemosabe Records that she wouldn't make a statement about her legal situation. The company announced Thursday that Kesha could perform after all, Billboard reported. Kesha tweeted to celebrate Kemosabe Records' decision on Friday: "good work animals. looks like our voices can be heard after all." On Saturday, she tweeted a photo appearing to show her in the back of a limo in Las Vegas; this year's BBMAs are at the T-Mobile Arena.
After months managing the professional fallout of challenging litigation, Kesha got to take the stage again and show her full power as a performer. And the fans celebrated her for that.
All the world can say is, wow.