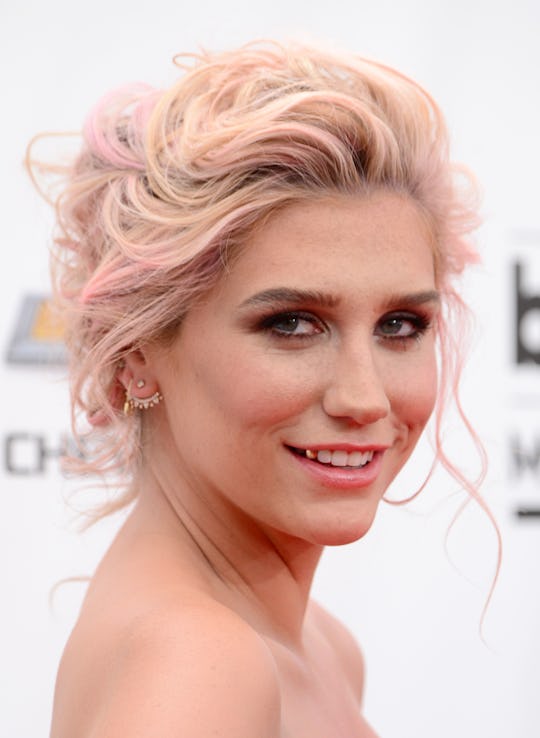 Frazer Harrison/Getty Images Entertainment/Getty Images
Kesha's Statement About Abuse Is So, So, Powerful For This One Reason
Through all of the darkness in Kesha's life this past week, there has been some light in form of the support she has been receiving from other artists and fans around the world. Following a decision made by a New York judge last Friday that denied Kesha an injunction against former producer and collaborator, Dr. Luke, Kesha released a statement on Facebook page, thanking everyone for their support. Unsurprisingly, Kesha's statement about abuse is so, so, powerful for all victims, for one very important reason: It let them know that they are not alone.
The judge's denial of the injunction forces Kesha to stay in a contract with Sony Music and Dr. Luke's label, Kemosabe Records, binding her to make music under the label alone. The initial controversy stems all the way back to a Oct. 2014 lawsuit, in which Kesha alledged that Dr. Luke had "sexually, physically, verbally, and emotionally abused" the singer. Dr. Luke, who's real name is Lukasz Gottwald, has never been criminally charged in relation to any of those allegations.
On Wednesday, Kesha posted a statement to fans on her Facebook page, thanking them for their love. "I can't believe that so many people all over the world took the time to show me support and love," she wrote. "Other entertainers who put their own careers at stake by supporting me, I will be forever grateful."
In the statement, Kesha also discussed her contract with Sony and how she wanted to make music, free of her abuser. "But at this point," she said, "this issue is bigger than just about me."
Kesha's statement about abuse is so powerful for all victims, because it let's them know that there are people out there who have gone through similar things — even celebrities like Kesha herself. For Kesha to make such a statement while this lawsuit and injunction is still in the public eye really says something about her character. The statement is more than just commentary on abuse and Kesha's current situation — it is a statement to empower others and let them know that they are not alone. In her statemetn, Kesha added as much, saying,
...I just want to say that if you have been abused, please don't be afraid to speak out. There are places you can go that will make you feel safe. There are people who will help you. I for one, will stand beside you and behind you. I know now how this all feels and will forever fight for you the way perfect strangers have been fighting for me.
Since the hearing, various artists have offered Kesha their support through Twitter, including Taylor Swift. According to CNN, Swift donated $250,000 to Kesha to "help with any financial needs during this trying time." The public outpouring of support for Kesha from her female peers has been phenomenal showing her that there are so many people who are on her side. "We're all in this together," Kesha stated this week. "You're not alone. I love you and thank you."
Hopefully the singer's statement will inspire others to speak up about being victims of abuse, allowing them to seek help and the support they need.