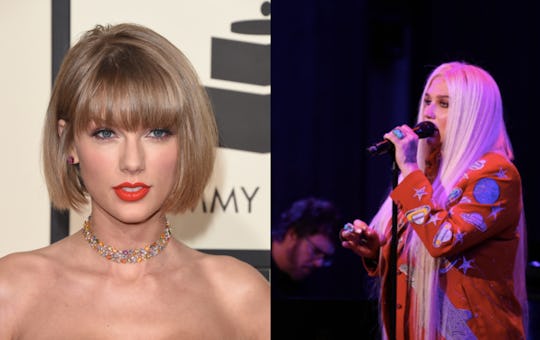 Jason Merritt/Getty Images Entertainment/Getty Images Tasos Katopodis/Getty Images Entertainment/Getty Images
Kesha Just Sent Taylor Swift A Beautiful Message Of Support After Sexual Assault Trial
Hours before a jury reached a verdict in favor of Taylor Swift in her years-long sexual assault trial, Kesha posted a powerful and supportive tweet to Swift and it's so important. Not only does it remind us as a society us to have each others' backs in trying situations like these, but it's also a perfect example of strong women supporting other strong and successful female figures. And given the current state of affairs in the United States, we were definitely due for a dose of goodness.
At the time of the tweet, Swift had been busy testifying in a series of court cases surrounding her recent allegations of sexual assault at the hands of former radio host David Mueller, according to CNN. After she accused Mueller of committing a "despicable and horrifying and shocking" groping during a photoshoot, actions which he has continued to deny, Mueller reportedly lost his job. He then attempted to sue the singer for damages and had his case dismissed by the presiding judge, as Rolling Stone reported.
Swift has since initiated a countersuit and won. As an act of symbolic compensation, Swift opted to sue him for just $1 in damages for emotional trauma in an effort to raise awareness. The jury began deliberations on Monday for the countersuit and Swift has been expectedly emotional as the sting of battles neared its conclusion. On Monday evening, as reportedly by multiple media outlets, Swift's case prevailed.
Much like Swift, as Vox reported, Kesha has been engaged in a comparably traumatic legal battle of her own with Dr. Luke for over three years now. Having reached the other side of the often losing battle, she spoke from experience to her friend and colleague about the power of the truth. And in true feminist fashion, Kesha reached out to the pop star over Twitter to express her support and solidarity for her cause.
"I support you always, and especially right now and admire your strength and fearlessness," Kesha tweeted on Monday morning. "Truth is always the answer."
The tweet has already racked up tens of thousands of likes and shares. Such public engagement with Kesha's message is a testament to how powerful love and support can be in a time of struggle, as well as proof that sexual assault will not be taken lightly.
Judging by past interactions between the two artists, the warm feelings are mutual. In February of last year, Swift donated $250,000 to Kesha after a judge denied Kesha's court injunction to record music outside of her Sony Records contract, according to Rolling Stone.
The pressures on Kesha were lightened when Sony reportedly decided to drop Dr. Luke, but Swift came forward in a time of need. Recently, Kesha unveiled a new record, Rainbow, that was greatly influenced by her harrowing experiences with Dr. Luke and the lengthy legal battle that followed.
Kesha received similar celebrity support during her crisis. Lady Gaga was a vocal advocate of Kesha and made waves with her tweets of encouragement. In both cases, the support provided by other artists further perpetuated the important cause.
In short, Kesha's message to Swift is one of hope — coming from one warrior to another and there is now stronger community of support for victims of sexual assault.