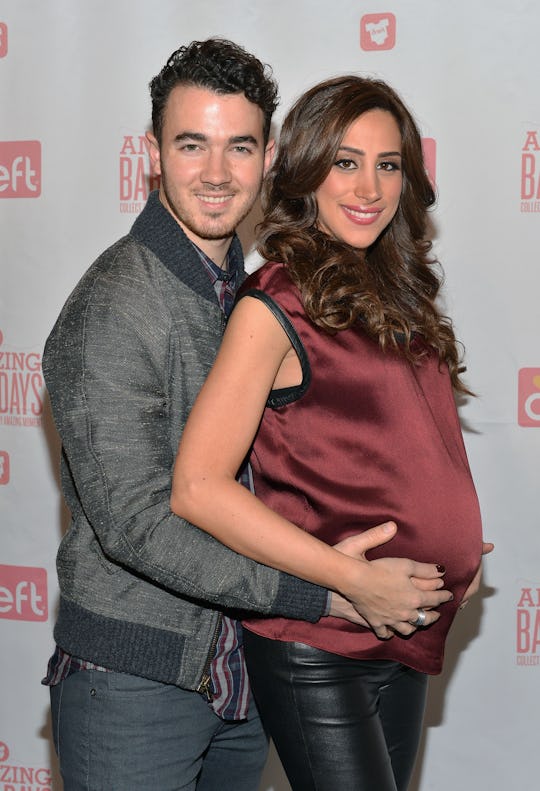 Slaven Vlasic/Getty Images Entertainment/Getty Images
Kevin & Danielle Jonas Welcome Baby No. 2 & Uncle Nick Is Over The Moon
Sharing his enthusiasm on Instagram, Nick Jonas posted a Snapchat video on Thursday detailing the sweetest and newest JoBro development. "I just got the best news ever — my brother and his wife had their baby. Uh, I'm overjoyed," he told his followers. It's official! Kevin and Danielle Jonas have welcomed baby number two and, if his Instagram is any indication, Nick is totally over the moon about his big brother's new baby girl. What's more, this Jonas addition makes 2-year-old Alena Rose a big sister now — significant because, if the brothers are any indication, sibling love is everything.
Nick tweeted his congratulations, too. "AHH! I'm an uncle again! Congrats to my brother and sister in law on the birth of their new beautiful baby girl," he wrote. His Instagram caption also read: "Congrats Kevin and Dani! We have another Jonas!! Can't wait to meet that beautiful baby girl very soon." He made sure to tag Kevin and Danielle in the posts, but maybe he should have thrown Joe Jonas into the mix, too, seeing as he's yet to comment on the event. We'll give him a pass, though; Joe's in Dubai at the moment, so he'll likely share his congrats a little later on.
Named Valentina Angelina, the new Jonas baby has been welcomed with such love. "We are so excited to welcome our new baby girl...to the world today. She is healthy and beautiful and we couldn't be happier!" the couple's rep confirmed.
You can watch Nick's heartfelt video below:
Kevin live-tweeted Valentina's birth, giving little play-by-plays of all the action as well as a bit of his and Danielle's emotions. "Can't believe we're gonna have 2 baby's [sic]," he typed, followed by, "Waiting is the hardest part!" He quickly corrected this statement with a follow-up, admitting, "... For me but dani would probably say the contractions hahahaha." These tweets were sent amid promotional ones for Demi Lovato's new Zombarrazzie game. While Danielle was in labor, Kevin let his followers know: "I'm just sitting here waiting so checking in to see how people like the game #zombarrazie."
With all of his well-wishing, maybe Nick will even offer to babysit for his big brother. The Jonas family (and extended family) are obviously obsessed with baby Valentina are couldn't be more thrilled that she's doing fine. And hey, Valentina's a link in the family's chain; By the year 3000, the Jonas' hope to have a great-great-great-granddaughter. Just saying.