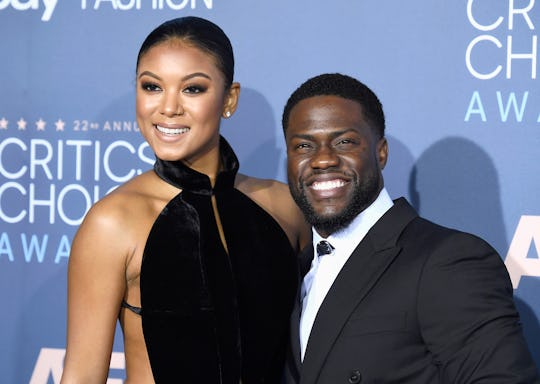 Frazer Harrison/Getty Images Entertainment/Getty Images
Kevin Hart & Eniko Parrish Are Expecting!
It's the best Mother's Day surprise ever! On Sunday, Kevin Hart and Eniko Parrish announced that they're expecting their first baby together in an Instagram post, with Hart sharing a picture of the couple and captioning it, "Celebrating Mother's Day with my beautiful wife. We are laughing at the fact that this time next year we will be celebrating her 1st actual Mother's Day." Yes, it's possibly the sweetest post ever — and it came with a gender announcement and ultrasound picture, too.
Hart's post included three pictures in total: one of the happy couple, one photo of Parrish's bump, and one ultrasound shot. The baby's gender was on Parrish's bump picture, with the words "It's a boy!" written over the picture. This will be Hart's third child, as he's already a father to two kids from a previous relationship, 9-year-old Hendrix and 12-year-old Heaven.
According to E! News, Hart and Parrish got married in California in August 2016, with young Hendrix as Hart's best man, according to People. They had reportedly dated for several years, and were engaged for nearly two before they headed for the altar. Soon after tying the knot, the couple spent their honeymoon enjoying St. Barts.
By October 2015, Hart was already having to deny pregnancy rumors. "She's not pregnant. We're not expecting," he said at the time, according to E! News. "When we do, we'll know and you'll probably hear from me several months after."
Just a couple of months ago, Hart was joking about whether he had the patience to deal with a new baby when he was asked about potentially adding on to his family. "See, my kids are old enough where I can say, 'Go do something,' and they go do something," he told Entertainment Tonight in March. He continued:
I gotta make sure I have the patience to follow a baby. ... That age of baby is just calling you all the time and that's a tough age. 'Dad, dad, dad, dad, dad, dad,' and then you finally turn around and they go, 'Look!' You called me 20 times for that?
That sounds like a stage that most parents are familiar with — but it seems like Hart is ready to take on the challenges (and excitement!) that come with a new baby, after all. Hopefully we'll be hearing more hilarious parenting anecdotes from the comedian after Hart and Parrish welcome their new little boy. Congratulations to the happy family!