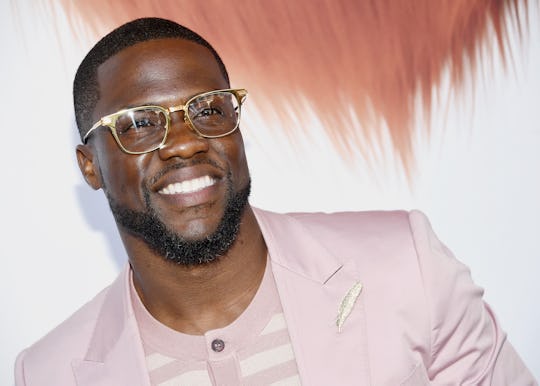 Mike Coppola/Getty Images Entertainment/Getty Images
Kevin Hart & Jimmy Fallon Visited A Haunted House, & They Don't Take To It Well
After acquiring a taste for adrenaline on a rollercoaster ride in June, Jimmy Fallon and Kevin Hart visited a haunted house, upping the ante on Thursday's episode of the Tonight Show. The two visited New York's scariest haunted house: Blood Manor. Fallon isn't the first celebrity to realize the comedic value of haunted house reaction videos, Ellen Degeneres is well-known for recording her producers' chilling experience during them. But Fallon might have shot himself in the foot when volunteering himself as tribute for laugh value this Halloween season, since this looks really scary.
In this segment, the tables have turned from the sunny Universal rollercoaster scene, now Fallon was the one afraid to wet his pants, and in the dark. Fallon and the Central Intelligence actor were strapped with Go-Pros as they embarked on their insidious journey.
"I do not like being scared. I'm for real scared." Fallon confessed to Hart before entering the attraction. For his part, Hart said that anyone who jumped out at him was "gonna get a boot to the neck." Boy, were they in for a treat, then.
The two jump, scream, and in Hart's case, fart their way through the gory attraction. One part of the skit looks like a scene straight from a war zone. A man pops out of nowhere with a fake machine gun. Gunfire is heard throughout, and the Go-Pro reveals a petrified Hart. "Oh sh—" he says as he dodges imaginary bullets.
During the experience, the two look like two overgrown teens as they run through the haunted house. And just like we see in teens, one tries to sell out his friend. Hart is the kid you see in horror movies who tries to give up his guy to save himself. "Jimmy's got all the cash" he says when creeped out by a player, pointing to Fallon.
The two continue flinching their way through a mix of strobe-lights and pitch-black darkness, Hart scurrying like a skittish ferret at certain points.
The duo actually manage to temporarily subdue one of the villains. When a crazed man pulls out a chainsaw the men act like parents commanding their child to put down a toy. "Stop it. Stop it. You stop it!" Things are calm for the 3 seconds following, but then all hell breaks loose again.
"If you guys watch this at any point and it looks like I was afraid, I'm an actor," Hart said defending himself. "That's me acting." We hear one last off-screen growl, which is the last straw for Hart. He steps off camera, and Fallon says "Happy Halloween, dude."
"Why don't you, uh, go f*ck yourself, Jimmy" Hart claps back at him. The playful banter cements their bromance, and perfectly ends the segment. Maybe they can visit Santa next?