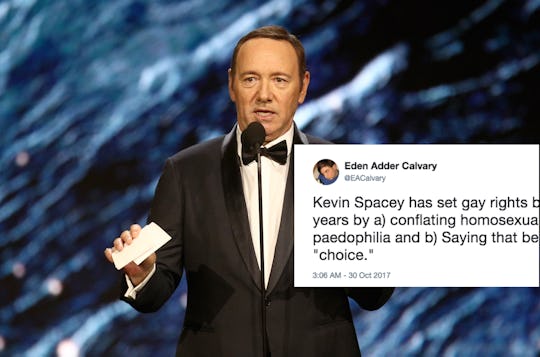 Frederick M. Brown/Getty Images Entertainment/Getty Images
Kevin Spacey Responds To Pedophilia Allegations & The Internet Is Furious
In an interview with BuzzFeed News Sunday, Star Trek: Discovery star Anthony Rapp accused actor Kevin Spacey of making sexual advances toward him when he was only 14 years old. The allegation is the latest in a growing list of celebrities coming forward about the prevalence of sexual abuse in Hollywood, and on Monday morning, Kevin Spacey responded to the pedophilia allegations. But the reaction on social media proves that his apology hasn't exactly been accepted by the public.
Rapp — who is now 46 years old — told the outlet that he'd met Spacey in the '80s while the two were acting on Broadway. Rapp alleges that the then-26-year-old Spacey invited him to his apartment for a party, and that at the end of the night, Spacey "picked [him] up, placed him on his bed, and climbed on top of him, making a sexual advance" without his consent, according to BuzzFeed. Spacey released a statement on Twitter in response to Rapp's claim, and said that while he doesn't remember the incident, he apologized for "what would have been deeply inappropriate drunken behavior." He then took the opportunity to publicly reveal that he is gay. Spacey wrote:
This story has encouraged me to address other things about my life. I know that there are stories out there about me and that some have been fueled by the fact that I have been so protective of my privacy. As those closest to me know, in my life I have had relationships with both men and women. I have loved and had romantic encounters with men throughout my life, and I choose now to live as a gay man.
While nothing could even begin to excuse Spacey's alleged actions, his prompt statement could have at least been an opportunity for him to take responsibility for the pain and trauma Rapp said that he had caused. Rapp detailed to BuzzFeed, for example, how triggering it had been to have to watch as Spacey's Hollywood career took off, and that even after more than three decades, his "stomach churns," thinking about the incident, adding, "I still to this day can't wrap my head around so many aspects of it. It's just deeply confusing to me."
But Spacey's response totally fell short. Although he apologized, and made an attempt to acknowledge Rapp's pain, he also stopped short at owning up to anything specific — and was also quick to blame alcohol for anything he may have done.
What what was even worse though, is that he then managed to turn his apology into a statement about coming out, as though to suggest that being gay was in some way relevant to the fact that he may have sexually assaulted a child.
That's not only an infuriating deflection technique, it's also an incredibly offensive shot at the LGBTQ community, perpetuating the long-held and dangerous assumption that somehow homosexuality and pedophilia are connected. And the fact that he also opted to suggest that being gay is something you choose to do is yet another inaccurate myth that causes real harm:
And as many on Twitter noted, Spacey's sentiment wasn't really all that different from disgraced Hollywood producer Harvey Weinstein's statement, in which he pledged to "channel that anger" by "[giving] the NRA [his] full attention," according to Billboard.
Following Spacey's statement though, many people urged others not to let his coming out take away from the real story here: that Rapp alleges he was assaulted as a young teen. On Twitter, actress Rose McGowan, who has been unapologetically outspoken about sexual abuse in Hollywood after coming forward with allegations against Weinstein, emphasized the importance of not letting Rapp's words be silenced. And thankfully, she wasn't the only one:
So far, Spacey hasn't responded to the backlash his statement is receiving, and a rep for Spacey did not immediately return Romper's request for comment. But the reaction on social media seems pretty clear: not only is the alleged sexual assault completely unacceptable, it's absolutely not OK to try and associate it in any way with being gay. Sexual abuse, harassment, and pedophilia have nothing to do with sexual orientation, and trying to suggest otherwise is dangerous scapegoating.
But while the anger and frustration over Spacey's response is understandable, it would be unfair to allow his words to gain more prominence than Rapp's — particularly given how incredibly difficult it must have been for him to come forward. Now that he has spoken out, he deserves to be heard, regardless of Spacey's decision to reveal his sexuality to the world.