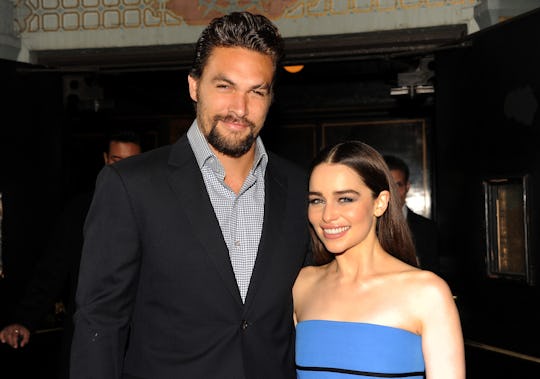 Kevin Winter/Getty Images Entertainment/Getty Images
Khal Drogo From 'Game Of Thrones' Would Have Made A Great Father & Here Are 5 Reasons Why
Khal Drogo and Daenerys are the best Game of Thrones love story. Although Khal Drogo and Daenerys' relationship began with a forced marriage, their relationship quickly turned into something more. Once Daenerys stop letting Drogo take the lead — and she stood up for herself — she became his Khalessi, the moon of his life. The two were a formidable pair, working side-by-side to rule and conquer. It was clear they loved each other deeply, and there was no doubt that Khal would have made a great father on Game of Thrones.
Daenerys changed Drogo in many ways. He became more compassionate and listened to her political advice. He supported her in every way, even killing her brother Viserys, when he threatened Daenerys and the baby, and promised to take the Iron Throne back for their child.
Unfortunately, as tends to happen to our favorite characters on Game of Thrones, Khal Drogo was killed. Whether it was from the cut he received in battle, or the black magic the priestess used, Daenerys lost not only her husband, but their son too. I'm starting to think, George R.R. Martin hates us.
But what would've happened if Drogo and their son, Rhaego, survived? Here's just a few reasons why I think Drogo would've made an amazing dad.