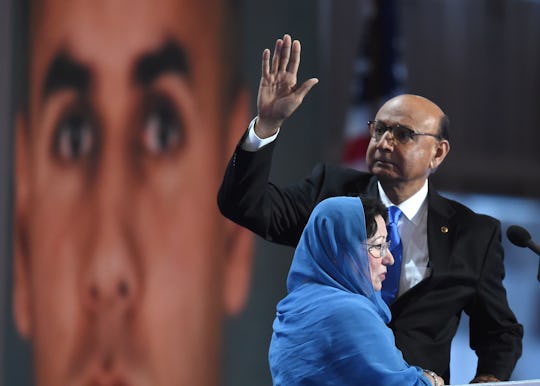 TIMOTHY A. CLARY/AFP/Getty Images
Khizr Khan Says Donald Trump Is "Incapable Of Empathy"
Khizr Khan delivered one of the most incredible speeches at the Democratic National Convention in Philadelphia on Thursday night. Khan stood in front of delegates at the Wells Fargo Center and audience members watching at home and said some pretty heart-wrenching things — as well as some notable things about Donald Trump. So when Khizr Khan says Donald Trump is "incapable of empathy" in follow up interviews, I'm inclined to believe him.
Khizr and his wife, Ghazala — both American Muslims — spoke at the convention in honor of their son — Army Capt. Humayun Khan who died in Baghdad in 2004 while serving his country. During his speech, Khan — with a copy of the constitution in his back pocket — targeted Trump's lack of sacrifices for his country as well as his strict immigration proposals. In just the short time allotted for Khan's speech he made one very powerful argument against Trump that can be further seen in the speech's transcript:
Have you been to the Arlington Cemetery? Go look at the names of the brave patriots who died while defending the United States of America. You will see all faiths, genders and ethnicities. You have sacrificed nothing and no one.
Donald Trump (being Donald Trump) wasn't too happy with Khan's speech delivering two less than positive statements to the media — one in which he claimed he had "made a lot of sacrifices," and another in which he said Capt.Kahn was "a hero to our country" that had been killed because of radical Islamic terrorism — in response to Khan's speech. But Khan isn't buying Donald Trump's replies, telling The Washington Post, "this is faked empathy." He added,
...You think he will empathize with this country? With the suffering of this country's poor people? ... Republicans are falling for that. And I can only appeal to them. Reconsider. Repudiate. It's a moral obligation. A person void of empathy for the people he wishes to lead cannot be trusted with that leadership. To vote is a trust. And it can not be placed in the wrong hands.
Donald Trump, however, is still not happy with Khan's speech and went on ABC's This Week to clear some things up — and diss Khan's speech and his wife in the process. In addition to wondering if Khan's wife Ghazala was "allowed to speak" or whether or not "Hillary's speech writers" wrote Khan's speech, Trump insisted he has made plenty of sacrifices in his past. "I think I've made a lot of sacrifices. I work very, very hard," Trump said. "I've created thousands and thousands of jobs, tens of thousands of jobs, built great structures. I've had tremendous success. I think I've done a lot."
Khizr Khan's speech during the DNC was amazing. Khan spoke from the perspective of a Muslim American and a parent who has lost his son due to war — two groups that Trump hasn't said the nicest things about. For Khan to continue to speak about what he believes in and defend himself is honorable — especially during a time when so many people feel like they don't have a voice.