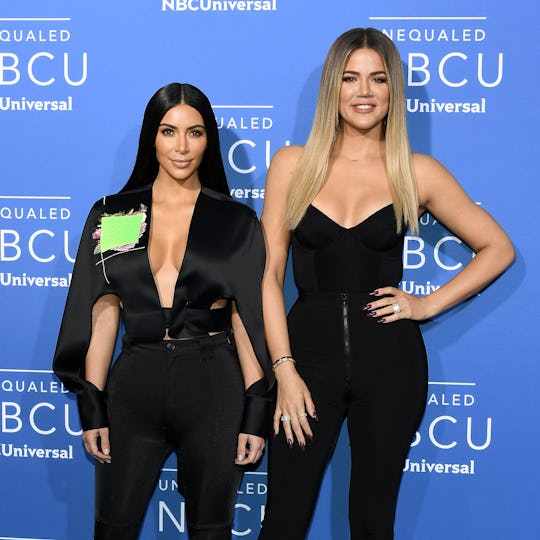 Dia Dipasupil/Getty Images Entertainment/Getty Images
Khloé Got Kim The Most Beautiful Gift After She Announced Chicago's Name
Talk about a proud new auntie! After Kim Kardashian and husband Kanye West announced the birth of their third child, Chicago West, on Jan. 16, the love quickly came pouring in from both fans and friends and family, with Khloé Kardashian being one of the first to publicly jump in and offer up her congratulations (as well as compliments about her sister's unique baby name pick). But that definitely wasn't all the Revenge Body host (and first-time mom-to-be) had in store. Khloe got Kim the most extra baby gift to celebrate her new niece's arrival — although the statement-making present probably isn't one you'll want to replicate for your new mom friends anytime soon.
Given that Kim Kardashian is, well, Kim Kardashian, it's probably safe to assume that she didn't have to bother registering for a bottle warmer or a baby swing (I mean, you know little Chi already has a super swanky nursery and a closet full of designer baby clothes). So when Khloé wanted to mark the newest Kardashian-West's arrival into the world with a meaningful gift, she definitely had to think outside the box. And did she ever: on Thursday, Kim shared a photo on Instagram of a giant floral arrangement from Khloé that spelled out "Chicago" in pale pink roses.
The pic wasn't the first glimpse of the extravagant arrangement — Kim had also shared an earlier shot of the roses, spelling out only her daughter's nickname — but lest anyone think Khloé only sprang for the first three letters, Kim later shared the full pic, which included baby Chicago's entire first name made entirely out of flowers.
Based on recent social media posts though, it seems that roses may have actually been a bit of a theme when it came to Kardashian family baby presents. Two days after Chicago's arrival, Kim shared a photo on Snapchat showing off a large arrangement of pale pink roses in the shape of a heart from Kylie Jenner, according to the Daily Mail, while mom Kris Jenner sent over a basket-weave cake adorned with pink roses in honor of her newest grandchild's birth.
As much as Kim appears to have a love for pink roses (earlier this month she told her Instagram followers, "Blush flowers are my thing"), Khloé also seems to be a big fan. In a post on her website, Khloé opened up about the plethora of floral arrangements that make an appearance on her social media account, and explained that flowers are "[her] hobby." And while she did say that she has a go-to florist for all of her floral arrangements, she wrote that she also enjoys visiting her local flower market for Instagram inspiration, and called it her "happy place."
Of course, while statement-making flowers are definitely an eye-catching present (not to mention one that makes for particularly swoon-worthy social media fodder), they might not exactly be the best gift option for those of us whose infants don't also happen to have a sprawling collection of Yeezy Boosts. After all, while Kim and Kanye have a large home full of nannies and assistants to help with their presumably-regular flower deliveries, sending your new-mom bestie an expensive arrangement of roses spelling out her baby's name in 3D probably just means you'll be leaving her with both a crying infant and a giant mess of dead flowers to clean up in a few days' time.
As unbelievably impractical as Khloé's baby gift is though, it's clear that she is thrilled about the birth of her sister's youngest child — and as episodes of Keeping Up With The Kardashians have already made abundantly clear, she's long been a totally devoted aunt to all of her nieces and nephews. Now that she's expecting her own baby in the coming months (along with younger sis Kylie, according to rumors), it seems there's no end in sight just yet for the Kardashian-Jenner family baby celebration. Which means that chances seem pretty good that there will be a lot more photos of blush-colored roses still to come.
Check out Romper's new video series, Romper's Doula Diaries:
Watch full episodes of Romper's Doula Diaries on Facebook Watch.