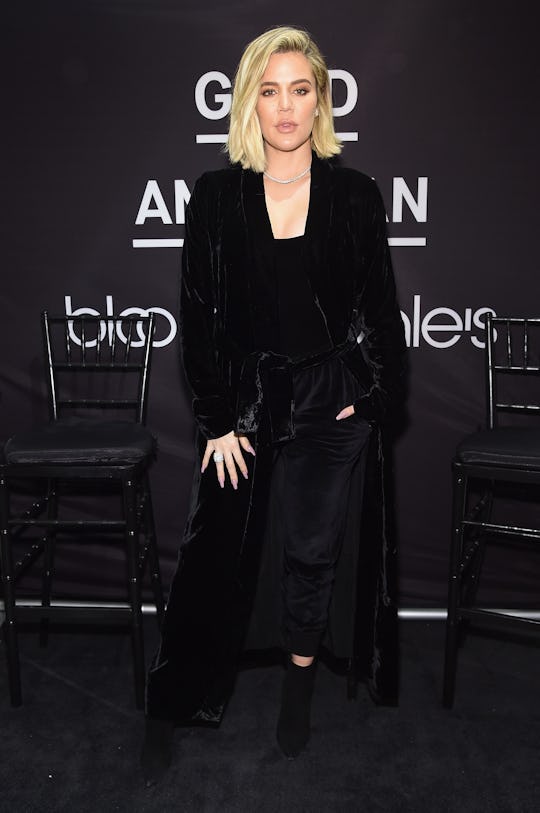 Jamie McCarthy/Getty Images Entertainment/Getty Images
Khloe Kardashian Misses Being Pregnant For This Very Specific Reason
Despite the morning sickness, exhaustion, and swollen feet, I found myself sorely missing having my little baby in my belly after I delivered her. Mourning your pregnancy isn't an uncommon feeling. Even Khloé Kardashian admitted that she misses being pregnant. But for her, the time spent on her own was what she longed for the most.
In a tweet from Monday, Kardashian shared what she misses most since delivering her daughter True Thompson on August 12 of this year. "I miss being pregnant for a few reasons but I really miss being pregnant because I used to have an excuse to be antisocial and go to bed early and not feel any type of way," she wrote.
Fortunately, as her followers pointed out, babies are a great excuse to head home early. "The baby is the best excuse! Also a great excuse for leaving early," one user told her. Another chimed in to say, "Now you can use The baby as an excuse like… 'sorry True is due for a nap at that time.'" Mom being tired is a perfectly acceptable reason to go to bed or skip a social event as well! Mom life is hard and sometimes you just need some time at home.
Aside from justifying anti-social behavior, there are a medley of aspects of pregnancy that new moms can long for, according to Fit Pregnancy. Some moms miss the experience of having a secret before announcing their pregnancy to family and friends. Others may long for the days when they get seemingly endless attention from perfect strangers smiling at them across the subway or rushing to open the door for them.
Personally, I most miss the food. Aside from raw sushi and alcohol, my pregnancy was like a culinary tour of the world. I don't think an hour passed when I wasn't eating — and it was totally fine. As Mona M. Shangold, M.D., director of the Center for Women's Health and Sports Gynecology in Philadelphia told Fit Pregnancy, women need to eat more during pregnancy because they are eating for two. "The exact number of calories will depend on how active you are and what your metabolic rate is," she said, but there's no doubt that the number of calories is higher.
I was also a big fan of indulging in my many cravings, which is another important part of eating during pregnancy. "It's important for pregnant women to listen to what their bodies want," Susan Kundrat, M.S., R.D., a sports and wellness nutritionist and owner of Nutrition on the Move in Champaign, Ill told Fit Pregnancy. "A woman may be craving a food that is high in a nutrient she really needs."
Adjusting to the new reality of postpartum can be hard and the amount of time that it takes to get used to not being pregnant can differ from one new mom to the next. In these times of emotional turmoil, it is important to remember that all of these feelings are valid. The past nine months of rest, pampering, and relaxation have turned to a nonstop parade of dirty diapers and crying. No one will blame you for missing the quiet time and closeness that came with expecting.
But if you have recently delivered and find yourself overjoyed to be free of the aches and pains of carrying around another human, that is totally normal too. Pregnancy is not easy and some women downright hate it. And you know what? That's normal too. There is no right or wrong way to feel. The important thing is that you acknowledge your feelings and speak out about them if they become hard to bear.